7 Proven Ways To Take Care Of Your Shirt And Make Them Last Longer
In today's world, There are so many ways to take care of your shirt and they are priceless.
They are exceptional, valuable, and add a bit of color to our daily life.
Needless to say, they are indispensable for most people.
The problem, however, is that some people find it hard to care for their clothes properly and often use too many shirts for a short period despite the durability and quality of the material.
If this sounds like you, read on.
This post shares insightful tips on how to keep the glow and care for your pretty shirt much better.
1. Avoid Excessive Dry Cleaning
Image source:uniondc.com
Shirts – like books – are precious to our everyday life. They bring massive value to us, but when not properly kept they can become our greatest adversaries.
Due to the intense chemical process involved in dry cleaning clothes, the fabrics can break down and lose their longevity sooner – if the process is not controlled.
Instead of relying on dry cleaning every time, use environmentally friendly cleaners to wash clothes to maintain the textile fibers and consumer skin.
2. Store Properly 

Image source:storagepost.com
Even though some fabrics are tough and resilient, proper storage practice is needed to keep them alive and prolong their lifespan.
Make sure your clothes are kept in a place where they are protected from the ultraviolet rays of the sunlight and dampness caused by liquids.
You also want to create "breathing space" for to take  care your shirt to avoid wrinkles and color loss resulting from the combination of clothes.
3. Air dry (avoid dryers)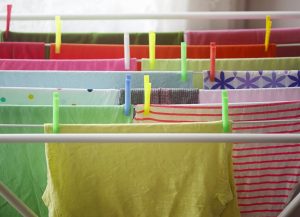 Image source:bobvila.com
There are different ways to go about drying your shirts.
You can shake the fabric and hang it either outside on the washing line, hangers, or drying rack or you can tumble dry it, using some set of machines to speed up the process.
While the latter is fast and easy, it's doing more damage to the fabric and makes them wear out fast.
The former, however, is good for your cloth and allows the cloth to retain its fragrance and beauty.
So rather than trying to use dryers to fast track your drying process, patiently lay them on the drying rack and wait for them to dry for longevity.
4. Less Is More 
It's pretty tempting to dip the fabric inside water or throw them in the washing machine each time you wear them, but most of the time you are unaware of the potential side effects this can have on the material.
Every wash adds a bit of stress to the natural fibers and over time this can lead to faster aging and fading of the shirt.
Therefore, reducing the number of washings is one important tip to prolong the life of your precious shirt.
5. Wash Inside Out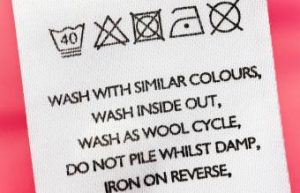 Image source:cleaning.lovetoknow.com
Washing your shirts on the inside out helps keep the abrasion inwards while the visual outside of the shirt remains excellent.
Additionally, this minimizes the risk of fuzziness and pilling of the fabric, helping to make them last longer.
You should also dry the T-shirt inside out to ensure potential fading resulting from sunlight only happens on the inner surface of the garment.
6. Slow and Steady
Image source:choice.com.au
While there are no community or fabric rules that point us in the right direction, when you're ready to launder your shirt, don't turn up the button. Instead, keep it at a lower temperature (300 or less), adding natural detergent to keep the fabric clean and soft.
Remember, washing too often can ditch the glow of your fabric and cause them to wear out.
Therefore, it's crucial to lower the temperature to reduce emissions and protect the cloth. Exceptions are items such as underwear, towels, bed sheets that are in close contact with your skin.
7. Iron With Water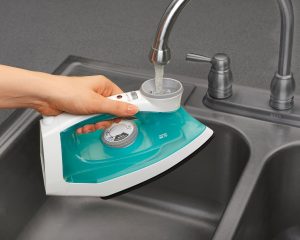 Image source:mrright.in
When properly handled, some T-shirts may be less prone to wrinkles.
If you carefully and correctly take them out of the washer and give each fabric a stretch or shake, creasing may be minimized and they may just get back to shape.
However, if your shirt does need ironing, make sure you're not completely dry ironing them. ironing fabrics when they are still humid makes them smoother and they can stretch and flatten more easily.
By kingkentus