Different Types Of Shoes For Men
Overview
Different types of shoes for men are one of the important things everyone has in their possession. It is widely used for various purposes such as foot protection, decoration and fashion. The use of shoes can be dated back to the earliest centuries and its design has metamorphosed over the years. Shoes can be used to depict one's culture, belief or tradition, occupation, function, history, among several others.
Types of shoes for men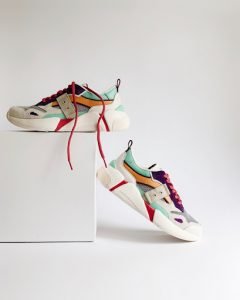 There are varieties of men's shoes you can select that will match the events you wish to attend. Here is a list of shoes for men and the best attires that will match it.
Loafer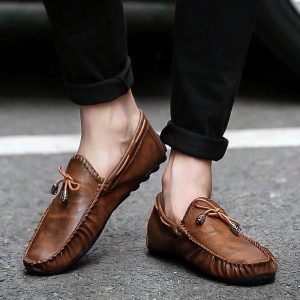 Image Source: Pinterest
A loafer is a leather shoe with no laces and with a flat heel that looks like a moccasin. Loafers can be worn with jeans and a t-shirt, denim and khakis, shirt and chinos, stirrup legging, a beautifully designed ankara outfit, Blazer, a baggy jeans, amongst others.
Boot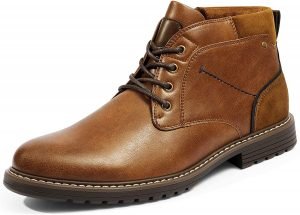 Image source:Ebay
Boot is a heavy shoe that covers some parts of the legs. Boots can be worn with a knee length flowy outfit, sleek trousers, a little skinny ankle jeans. There are different kinds of boots and each can be suitable for different outfits. Some of the various types of boots include Dress boot, Hiking boot among others.
Moccasin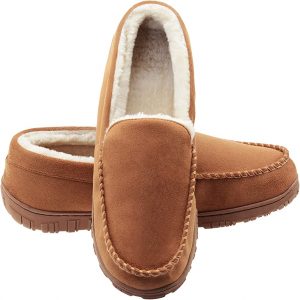 Image source: Amazon
Moccasins are one of the most common types of shoes for men. It is made of a deerskin or any other different soft leather consisting of a sole and sides made from a single leather with the top most part stitched together and oftentimes with a vamp.
Moccasins are mostly used by many fashionistas to rock their beautiful outfits. The popular type of shoe fits into different types of dress styles and can be worn with jeans, chinos trousers, with any fitted designed ankara fabrics, slacks and several others. No matter how you want to wear your moccasins, you will be certain to look stylish in them.
Cheapest online store to buy your men shoes in Nigeria

There are several online stores to get your men's shoes. However, many of them seem to be very reliable especially when it comes to giving you good quality. We shall bring you some of the best online stores to buy your quality men's shoes. Here a good number of them
If you are looking for one of the best online market stores to buy your shoes, then you should try considering jumia stores. They are very reliable especially when you are searching for good quality men's shoes and a timely delivery.
The second one on the list of best online stores to buy your quality men's shoes is the komback marketplace. Though not too popular among many, it's a very reliable place to buy your shoes from, especially at a considerable discount. More so, you also get free and timely delivery across Nigeria irrespective of the area.
Jiji store is another reliable online marketplace to buy good and quality men's shoes. You will get to see different types of shoes and their brand on this platform and get a quick delivery of your shoes at a discounted price.
The last but not the least is the konga store. It is a very reliable online store and it is known best for their quality services, quick delivery and a very good discount in their price. It is one of the best online marketplace to buy your quality men's shoes.
Top three Shoes company brands for men
There are different shoe brands that are best known for their great quality and beauty. As much as there are many shoe brands out there in the market, there are not many of them that are known for their great quality
We shall consider the top three shoes company brand for men
Nike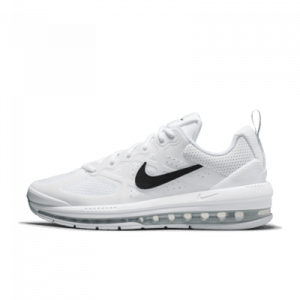 Image Source: Nike.com
It is one of the best and popular shoe brands in the market. Founded by Adolf Dassler, the shoe brand has its company located in the United States with several offices across the world. Currently, the brand is estimated to worth about $174.24 Billion and it's a majorly known to be the designers, developers, manufacturers and marketers of the footwear of many famous firms, celebrities and football clubs and has efficiently served its customers for many years
Adidas
Image Source: Amazon
Another top shoe manufacturing brand that produces quality shoes is the Adidas brand.  Adidas is a German based multinational company that was founded by Bill Bowerman & Phil Knight. It is estimated to be worth about $33.48 Billion. The company manufactures a variety of products such as apparel, accessories but is vastly popular for the production of high quality footwear. It is also a popular brand in the fields of athletics, sports and games where it provides good quality and beautiful footwear.
Puma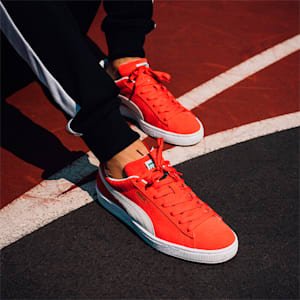 Image Source: Puma.com
Puma is a top brand that manufactures clothing, accessories and footwear for sports and leisure. The multinational German firm which is worth about $10.63 Billion is founded by Rudolf Dassler and is very popular for its excellent footwear designs and production. It has over the years maintained its reliability and has ensured that customers are served with nothing less of a standard quality footwear. It is a brand to consider if you want to buy quality men's shoes.
How to remove odor from shoes 
Although there are suitable shoes that will fit any outfit you would want to go with, it isn't most people's choice and this is due to various reasons. However, for many people their reasons for not having shoes as their most preferred options for their outfit is because of the odor that comes out from it. If you've been trying to get rid of the bad smell from your shoes, then I will implore you to read these simple solutions that will help you get rid of bad smells in your shoes.
Here are five different natural methods to remove odor from your shoes.
Drop a bar soap in the shoe
One of the easiest natural methods you can use in removing odor from your shoes is by dropping a bar soap into each of the shoes and leaving it for some hours. Most of the causes for odor in shoes is due to bacteria and soaps kills bacteria and the smell they produce. More especially soap can absorb smell and replace it with a very nice smell due to its porous nature. However, wet soaps encourage bacteria and can increase shoe odor, so be careful to ensure that the soaps aren't wet before placing it in your shoes.
Spray Vinegar into the shoe
Spraying or sprinkling vinegar into smelly shoes can help get rid of the bad smell. Vinegar fights bacteria in shoes and also neutralizes bad smells.
To remove odor in your shoes using vinegar, just mix equal quantities of white vinegar with water into a spray bottle. Spray the solution inside the shoes after use and then allow the solution to dry. A consistent practice of this method to your shoes will make them smell fresher and good for a long time.
However, before applying the solution to your shoes, ensure to thoroughly clean the inside of your shoes to maximize the effect of the solution.
Sun drying excess moisture in the shoes is another natural method of removing bad smells in the shoes.
Just put your shoes directly under the sunlight for some hours to remove the moisture completely.
Putting on shoes without socks is one of the ways to encourage odor in shoes. While some of the previous methods of removing odor in your shoes may require some extra cost, sun-drying your shoes requires no cost. Sweat from your feet can lead to odor shoes especially if you are prone to sweaty feet. Socks help absorb moisture and prevent odor in your shoes.
Many times, insoles are the root of bad smells in shoes, so changing the insoles can be the right step in getting rid of bad odors in your shoes especially if you have been wearing that particular insoles for many years.
Benefits of wearing shoes
Wearing shoes helps protect the feet from injuries which may be as a result of impacts. It also prevents you from having some foot problems such as Corns, Ingrown toenails, Fungal nail infections, Athlete's foot, among others.
Shoes prevents infections
In many parts of the world, people tend to suffer from diseases and going without shoes is a contributing factor to the widespread diseases. Bacteria, parasitic worms, injuries amongst others are what people are exposed to when they go on bare feet. Wearing of shoes can help reduce the risk of having those infections or injuries that can make one vulnerable to infections
Final Thought
Shoes are really good and bring out the beauty of an outfit. It has its many importance to humans which also cuts across our health. Good shoes help reduce pains in the joints and ankles. And you can remove odors from shoes without having to spend any dime.
By King kentus