Hits: 15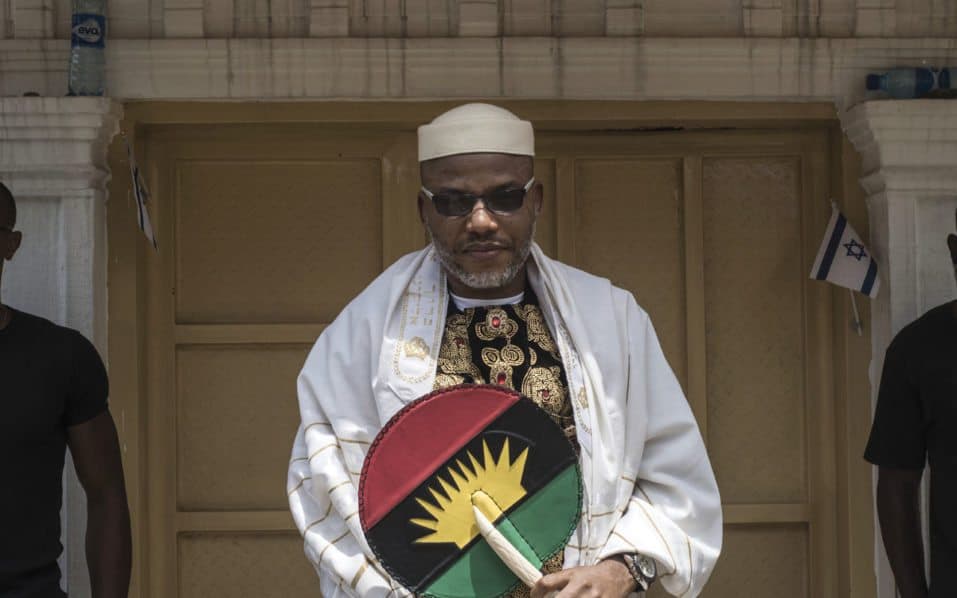 LEADER of the Indigenous People of Biafra, IPOB, Mazi Nnamdi Kanu has said that the Federal government re-arresting him would quicken the actualization of Biafra.
Kanu also said that nobody can restrict his movement in any part of the country and that he is free to go to any part of Nigeria, including Lagos, if he so wishes.
According to the IPOB leader who spoke in Umuahia, nobody can stop him from visiting Lagos State if he wants to visit there, saying he was not bothered by threats by some elements that his safety would not be guaranteed in Lagos.
If you arrest me, actualization of Biafra will come even quicker than we anticipate. I am not afraid of being arrested. I have been there before and if need be, I will also be there again. I will be very happy if they re-arrest me. If we are hoping for 90% compliance with the boycott of Anambra State Governorship election, my arrest will make the compliance 100%.
But why will I be re-arrested and nobody is going to arrest Tanko Yakassai or Ango Abdulahi because of what they have been saying. Is it because they are Fulani. They own Nigeria, They are immuned to arrest. Is arrest only meant for Biafrans and not for Fulani.
Who will arrest Lawal Daura of DSS for flouting court order to release Bright Chimezie Isinwa of IPOB.
The Fulanis say whatever they like and go free and nobody holds them accountable because they own Nigeria, Kanu said.
According to him, I go to anywhere I want to go. I don't listen to threats. They motivate me rather than dampen my spirit. That thing people say I cannot do is what I love to do. When the time comes, I will go to Lagos if I have to go to Lagos.
I have friends with connections in Lagos, Fani Fayode is my friend and he is in Lagos. If I try to visit him in Yoruba land, then I must see him in Lagos.
Kanu also denied promoting hate speech as being accused of by his critics, saying that condemnation of the injustices in Nigeria or the agitation for self- rule does not in any way amount to hate speech.
I completely disagree with them. They are the pioneers of hate speech. Go through the text of speeches made by Ango Abdulahim, Tanko Yakassia or the ones made by one Abubarkar. Are those ones not hate speeches Unfortunately, I blame the deplorable state of education in Nigeria because they don't know what hate speech is all about.
Does asking for self determination amount to hate speech Or asking for referendum hate speech. Where did they go to school. I think they need to invest more in education because self determination is no way equal to war or hate speech, Kanu said.