By Emake Obasi
History shall set us free. Those of us who understand comparative History will not fail to tell it as it is. About 51 years ago, Gen. Yakubu Gowon balkanized Nigeria into 12.
Col. Chukwuemeka Odumegwu Ojukwu, erstwhile governor of Eastern region, was appointed Military Governor of what was called Central Eastern State.
Decree number 14 of Saturday, May 27, 1967 caused Ojukwu to meet with the Consultative Assembly of the Eastern region. The result was the declaration of Biafra on Tuesday, May 30,1967.We must understand that Ojukwu did not act alone.
Nigeria was in turmoil and peace efforts failed. The most prominent was an accord reached at the Peduase Lodge, Aburi ,Ghana, January 1967, in the presence of that country's leader, General Joseph Ankrah. What followed was a bloody civil war that consumed more than four million souls.
A cross section of members of the various pro-Biafra groups that converged in Umuahia to name Nnamdi Kanu the leader Leader and arrowhead of the agitation for Briafra Republic.
We had men whose kith and kin were either part of Biafra or identified with Biafra but chose to support Nigeria. They were Igbo, Ijaw, Ibibio, Efik, Ekoi, Ogoni, name them.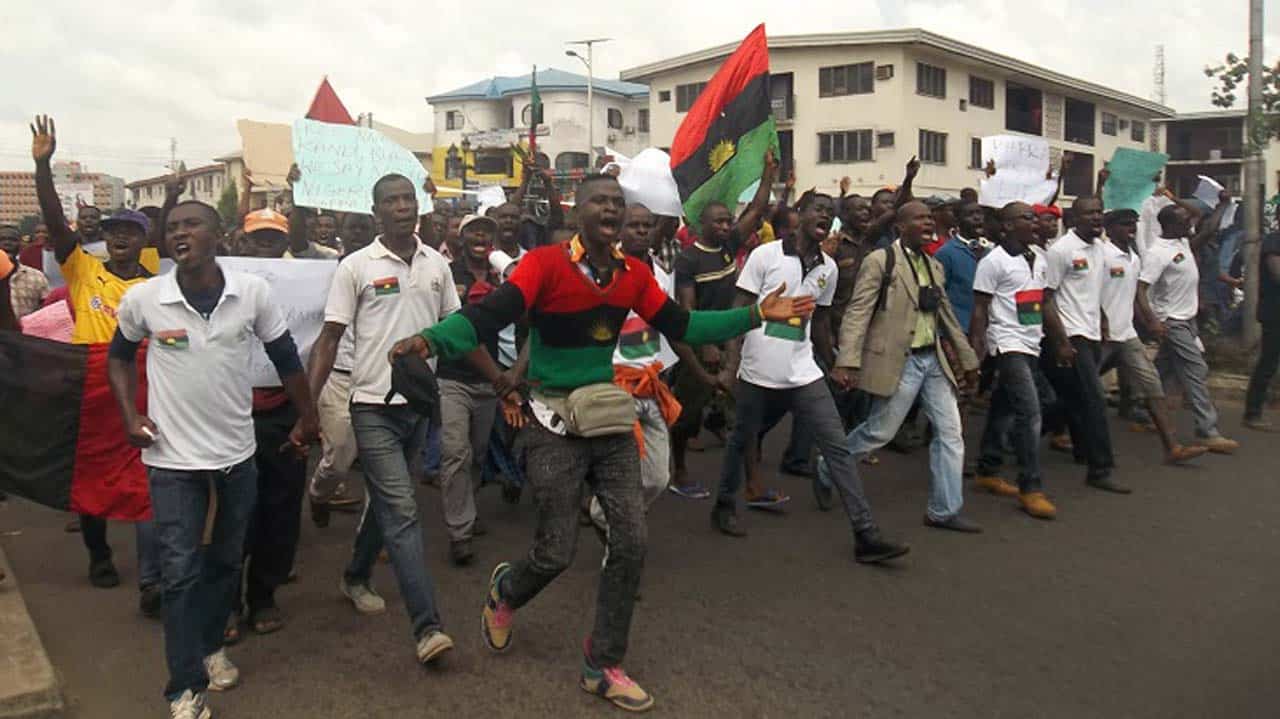 Heavyweights like Philip Asiodu, Godwin Alabi-Isama, Ike Nwachukwu, Cyril Iweze, George Kurubo, Isaac Boro, Alfred Diette-Spiff, Emmanuel Ekpo, Okoi Arikpo, Godwin Ally and Kenule Saro-Wiwa among many others. Ironically, there were committed Nigerians who had soft spot for Biafrans even if they did not let the whole world know their feelings.
Joseph Tarka, a Tiv; Ignatius Obeya, an Idoma; Musa Usman, a Kanuri; Yakubu Danjuma, a Jukun; Samuel Ogbemudia, of Bini background and prominent Yorubas like Oba Adeyinka Oyekan, Benjamin Adekunle and Akin Aduwo.
Fate could be cruel, you know. Many of those who were supposed to be part of Biafra but chose Nigeria could be gnashing their teeth today.
Asiodu , from Asaba and a Permanent Secretary for 10 years, lost his younger brother, Sidney, a University of Nigeria, Nsukka trained Zoologist and Tokyo 64 Olympian in the Asaba Massacre.
Married to Olajumoke , a Yoruba, like Gen. Murtala Mohammed's Ajoke, he was also retired unceremoniously in 1975 by the same Murtala whose Second Division troops under Ibrahim Taiwo carried out the 1968 Massacre.
Alabi-Isama did not really know he was from Ikilibi, Utagba Uno in the Igbo speaking part of Mid-West. He lost his father as a kid and followed his Yoruba mother to Ilorin where he became Abdurahman Alabi.
That was the name he used to join the Army on April 1, 1960. Alabi-Isama moved from Murtalas Second Division to Adekunle's Third Marine Commandos and ended up with Col. Olusegun Obasanjo.
Talk of those who fought for Nigeria, Alabi-Isama, a Lt.Col. at 27 in 1969, was a warrior and Principal Staff Officer. Unfortunately, he was retired as a Brigadier in 1977, when his mates, Alani Akinrinade, Emmanuel Abisoye and Martin Adamu were GOCs. Another course mate, Danjuma, was Chief of Army Staff, wearing the rank of Lieutenant General.
Akinrinade also became Army Chief and Nigeria's first Chief of Defence Staff. Other contemporaries, David Bamigboye and Ogbemudia retired as governors. Even Ben Gbulie was the equivalent of a governor in Biafra. Obeya became Defence Attache in London.
Ike Omar Sanda Nwachukwu's mother was from Katsina, his father an Ovim, Isuikwuato man. Nwachukwu, a journalist in Lagos under Prince Henry Odukomaiya, joined the Army and was under the protection of Brigadier Hassan Katsina, a Katsina Prince and Army Chief during the war.
He was later appointed governor of his home state, Imo, by Gen. Muhammadu Buhari in 1984. General Babangida made him minister and GOC. When it was time to elevate him to Army Chief, Nwachukwu was overlooked.
Gen. Salihu Ibrahim got the job. Cyril Iweze was so proud he fought for Nigeria while Nigerian troops were slaughtering his kinsmen in Asaba.
Much later he was posted to ECOMOG in 1990 as Chief of Staff. It was right under his nose that Charles Taylor's troops sliced Liberian President, Samuel Doe. Iweze was booted out in 1996.
He is still bitter. Kurubo, a product of Government College, Umuahia like Arikpo and Saro-Wiwa, initially joined Biafra but later defected to Nigeria because, Ojukwu whom he did not recognize as a superior officer put him in charge of logistics.
Gowon who was also a year his junior[Kurubo was commissioned in 1955] sent him away to the Soviet Union as Ambassador. Boro, one time President of UNN Students Union, served with Adekunle's Marine Commandos as a major.
He died in controversial circumstances although Alabi-Isama believes Boro was shot by a Biafran soldier. Diette-Spiff became governor as a Navy Lieutenant. Adekunle once ordered him out of an aircraft even as a governor.
Ekpo was Chief of Staff Supreme Headquarters in 1967. By 1974, he had been demoted to Commandant, Nigerian Defence Academy. Ally, pioneer student of the Military School Zaria, 1954, enlisted in 1959.
He retired out of frustration when his junior, Danjuma, became Army Chief. Saro-Wiwa was hanged in 1995. On the other hand, Tarka was Igbo at heart.
He knew Chief Paul Edomobi, Dora Akunyili?s dad, as one of the big men in Gboko.
Tarka helped Chief MCK Ajuluchukwu and KC Okoro with jobs and made it possible for Lawrence Anoliefo to become a judge in Benue State.
Obeya's wife, Angelina Amadi, was an Owerri woman. Governor Usman was also married to an Igbo, Jumai Nwachukwu.
He was born in Enugu. Adekunle's better half, Comfort Akie Wilcox, hailed from Bonny. Commander Aduwo's love, Bekinwari, was from Obuama.
The first daughter of the Oba Lagos, Kofo, was married to a Biafran Naval officer. Danjuma made it possible for African Continental Bank, an Eastern Bank, not to go under after the war.
Many will not believe this but it is true. Ogbemudia was Igbo from Igbanke but chose his Bini maternal home.
He stood with the Igbo and helped save UNN from those who wanted to destroy it. Tony Igwe, Austin Ofuokwu, Sam Opone, Sam Garba Okoye, played soccer for Nigeria.
Obisia Nwakpa was learning the ropes in Lagos. Yes, there was Biafra in Nigeria during the war. Brothers at war, indeed. Ojukwu made all thiese possible.
Sorce:News Now.