ALL THE BUZZ ABOUT SONY'S PLAY STATION 5
Critical acclaims and impressive sales both were attracted with the Launch of Play station Gaming console by Japan in 1994.
Which made its debut in America in 1995.
By 2005 Play Station by Sony had become a sensation. As it had become the first Gaming console to ship a 100 million units.
Swooping the world off its feet and rising to power with its brand new technology. It replaced cartridges with its newly invented compact discs systems.
About to launch its fifth edition of gaming console, Play Station by Sony gives us a sneak peek into what the future of gaming industry would look like.
THE LAUNCH OF PLAY STATION 5
The date, as released by Play Station 5, is to be launched on November 12 and November 19, 2020 almost worldwide.
The most awaited next-generation gaming console comes in a digital edition too, which removes the disc drive.
The rumored leaks and announcements, seem to be not completely a rumor. We already know a lot about its features starting from its design, key features to price ranges.
THE DESIGN
On releasing the console itself, Sony left the gaming world shook with its PS5 revelation event and other surprises in it.
Not one but two consoles are to be launched. A Standard edition PS5 with 4K Blu-Ray disc drive and the other PS5 Digital edition which is slimmer and disc free.
The Standard Play Station 5
Comes with a USB C charging, wireless PS5 headset and media remote. Makes use of an HD camera accessory and a striking design.
A curvy combination of black and white plastics along with blue highlights on corners which are far removed from the earlier black box designs of Play Station consoles.
In addition, it comes with an overhauled PS5 UI. The UI consists of new and enhanced features.
The console's new user experience has been specially designed for 4K TVs, meaning tiles representing games look tidier in comparison to PS4. Different tabs separate Games and Media.
The user may instantly resume his previously played game, provided his console was in rest mode. Similar to PS4 this will also allow you to jump back to where you left your game. Cards in the control center allow you to quickly jump into a game along with your friends at a party.
There is this "Tile" called Explore. This feature gathers your games into one place for you. As well news about the games you are following and community related news.
As of now, since Sony is still exploring the "Explore" feature only American audiences will be provided with this feature on November 12.
No longer is a separate app the Play Station store now built in PS5's UI. You can buy back compatible titles and browse games at more ease.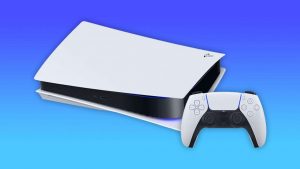 CPU: AMD Zen 2-based with 8 cores at 3.5GHz (variable frequency)
GPU: 10.28 TFLOPs, 36 CUs at 2.23GHz (variable frequency)
GPU architecture: Custom RDNA 2
Memory interface: 16GB GDDR6 / 256-bit
Memory bandwidth: 448GB/s
Internal storage: Custom 825GB SSD
IO throughput: 5.5GB/s (raw), typical 8-9GB/s (compressed)
Expandable storage: NVMe SSD slot
External storage: USB HDD support (PS4 games only)
Optical drive: 4K UHD Blu-ray drive
[SOURCE TECHRADAR.COM]
PS 5 DIGITAL EDITION
A new concept induced. Sony launches alongside PS5, PS5 Digital Edition. It is a disc-less version of the next-generate console.
The digital console will aim at flashing  the same specs as the standard Play Station 5 but with more streamlined packaging.
The PS5 digital edition aims at visualizing Sony moving a level ahead. With the increase in physical-media-free hobby, Sony is now depending on players to make use of digital downloads and streaming services in place of buying disc based hardware.
Even though this high-tech invention seems cool and fun from a consumer perspective, from a business perspective, its popularity may put many people out of business. This tech also comes with common hardships and difficulties such as trading video games with friends. It creates a mood of tension for many stores solely running on selling video games over discs.
As for game fanatics who have a knack for gaming collections the standard PS5 remains a more reliable option.
PS5 DUAL SENSE CONTROLLER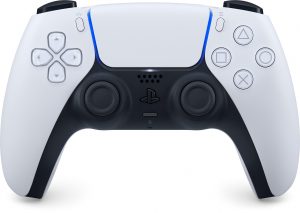 PS5 is going to come with a new game pad. PS5 dual sense controller is not the dual shock 5 you would expect. The black and white color scheme used on it is bold. The two tone PS5 controller extends to four face button combinations extending to circle, square, triangle and cross or X which are colorless. There is a color popping around the center of the touch pad.
The controller contains haptic feedback in L2 and R2 shoulder buttons that have been built to be adaptive.
These adaptive triggers are important, for the players must get to feel the tension of their actions through motions at their finger sensory as explained by Sony.
This will allow developers to resonate with the triggers and infuse more accuracy in their creations.
Dual Sense will include a microphone inside the controller. Letting its gamers to ditch their headsets for communicating with their friends. The 'Share' button is no longer active. Goes on the 'Create' button.
Well! That is what Sony is calling it. Even though the button is on the same spot and is still intended for game play content to share with the world.
The Dual Shock 4 will be running on PS5 as confirmed by Sony, but only for games meant for Play Station 4. With the company stating that "PS5 games should take advantage of the new capabilities and features we're bringing to the platform, including the features of Dual Sense wireless controller." As stated by Techradar.com
WHAT TO PLAY?
The PS5 games line is full of titles and news. You will definitely find something appetizing in there. One of the attention grabbing titles in Horizon Zero Dawn sequel, Horizon Forbidden West. A game that undoubtedly showed off the next gen visuals, featuring sun kissed beaches, coastal reefs, full filled by robot dinosaurs terrorizing the original game. It will be seeing the main character Aloy head into the ruins of America.
Several other franchises are set on running too.
Sony's take is on Spider-man, managed by Insomniac Games, which will come back into action with Mile Morales taking up the role of your friendly neighborhood spider man set in another open world title across Manhattan.
The other confirmed games are God of War: Ragnarok (upcoming in 2021) Five Nights at Freddy's, Hogwarts Legacy (a Harry Potter RPG), Final Fantasy XVI, Devil May Cry 5 have all been confirmed for PS5.
The long rumored Demon Soul a PS5 remake has also been confirmed. And the Resident Evil franchise will be working at giving the its mainline series another sequel 'resident evil 8: village'
Many PS5 games have been confirmed. As also confirmed an overwhelming majority of 4000 PS4 games have been confirmed for PS5. There are just too many surprises coming on the way.
IN CONCLUSION WILL THERE BE A PS5 PRO?
Well we are not quite sure of a PS5 Pro. But the launching of PS5 digital edition definitely suggests that Sony is looking into varied versions. It might come as a next-generation gaming console.
By Kingkentus