What You Should Know About Oppo AirPods in Nigeria (Design, Sounds, Price, and More)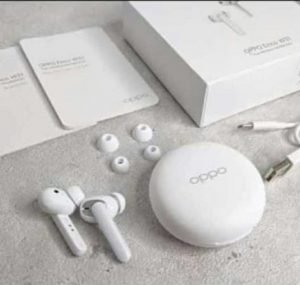 Oppo Airpods- The world has gone completely advanced and new and beautiful accessories that demonstrate modern-day expertise, aura, and technology are being introduced now and again.
A few years back Apple launched their wireless AirPods embedded with so many qualities, and functionalities but limited to users with iOS devices alone.

Today, that can't happen .
The wait is finally over and Android users can now enjoy the new Oppo AirPods with its amazing features. Even more surprising, the latest Oppo Enco W31 earphone features interesting qualities, well-grooved sound, and design.
While affordable wireless earbuds have been around for a while, most are manufactured by unknown brands and with extremely poor and shabby quality.
If you're a lover of wireless earbuds, you'll quickly find that this is truly amazing and beyond compare. In this article, you will learn about Oppo Enco W31 features, its pricing, battery life, specs, etc.
Let's dive in
Design: Matte Finish, Lightweight, and More Excellent Design Goodness Oppo Airpods

As a matter of fact, it's hard to believe any device exists in a world without flaws. But this comes differently in a sort of simplicity and convention that makes it difficult to find anything more extraordinary in design and personality.
The earbuds come in two different colors – white and black – and features a matte finish on the charging case shell, which helps to keep out from scratch and dirt, maintaining an overly clean and handy earbud.
The charging case is home for the earbuds, and when you need to pick up the earbuds, you can flip it open like you would do to your laptop.
The case is well set up and doesn't have a flimsy lid in the USB port. The overall weight of the case along with the earbuds is 50 grams, which is incredibly light. The Oppo branding is carefully implemented on the lid, and I like how the shell is natural with no glossy elements to distract you from its evenness.
Unlike other AirPods, these buds are IP54 dust and water-resistant, which means dust won't have the chance to ruin them after some time, and splashes of water won't have any effect on them.
While many complained about the other versions of this earbud popping out of the ear, for me, this has a firm grip on my ears and doesn't at any time slip when I'm racing.
They are also quite very light, making them a perfect fit for Netflix binge-watching.
Another good thing is you don't have to bother about any led lights disturbing you in the night, you only have to ensure you check them in the case to know if they are fully charged.
Sound: Get Ready For a Professional Masterpiece Oppo Airpods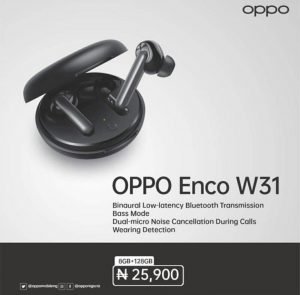 One of the various Oppo Enco W31 specs that arrests attention is the 7mm dynamic audio driver oozing the most beautiful melody of life in your ears.
With a dual TPU composite diaphragm that is engrafted into these earbuds, you're yet to experience such extreme sound.
In addition, these Oppo AirPods are compatible with AAC HD audio codecs, which explains the kind of thrill you're set to get when you press the play button. If you're tech-savvy and know how to identify quality materials, you'll quickly agree this level of sound goodness is too much for the price Oppo AirPods is quoting on these earbuds.
Yes, this sound is good and quite professional, but that's not all there is to these earbuds. The clarity and bass are down-to-earth and probably the greatest wonder ever alive.
Unless you're listening to really heavy bass music, what you're hearing will probably stun you. The sound coming from these buds is magical and completely natural, unlike some other earbuds out there.
And if you love to experience additional thrill, double tap on the left earbud of the Oppo  Enco W31 and you'll instantly have access to what is known as "bass mode."
Don't get this wrong, this is not an artificially boosted EQ mode that introduces the bass in a way that kills the song. Instead, it's a subtle boost in the lower frequency, providing a simple, yet powerful introduction of the bass to elevate the mood of the song.
Lastly, this earbud also features different sensors that pause playback, meaning you won't have to start all over again each time you go on a break, you can continue from where you left off.
Noise Cancellations: Stay Focus While Enjoying Music or During Voice Calls Oppo Airpods

This is beyond what mainstream earbuds should provide, but the Oppo Enco W3 comes with dual microphone noise cancellation that detects and cancels environmental noises that obstruct your music.
Not only is this a good way to block out the din, but it's also helpful for staying focused and consistent when on a voice call.
Battery: Not the Best, But Definitely the Best Deal
While this isn't the strongest battery stamina we have seen so far in the history of wireless earbuds, Oppo Enco W3 battery life can sustain you for some time before it runs out.
Normally, the earbuds last for around 3.5 hours but topping with the case you can enjoy 15 hours of music before charging again. That said, these earbuds may not be suitable for long haul journeys or flights but they will surely serve you for short-distance trips.
Pricing and Final Verdict
It's hard to believe any earbud exists having this many qualities yet at a very low price. The Oppo Enco W3 premium look, feel, and sound makes it one of those valuable smartphone accessories that deliver beyond the price anyone can imagine.
Normally, you would get this at around 25,000 Naira at other various stores but here we'll even give you the best bargain you've probably experienced in your lifetime.
You can purchase this brilliant, quality device for 15,000 Naira today. However, this is for a limited time as the Oppo Enco W3 in Nigeria  will skyrocket soon. Therefore, get your own here at the Komback stores.
By kingkentus