An estimate shows that globally in large numbers people work towards losing weight but fail. Exercises to do at home is the ultimate.
Often we hear people complaining about working out but not losing enough weight, that it does not make any difference, that they don't look any different etcetera.

In other words the results they 'expected' or 'were promised' and the results 'they got', are well…poles part!
The key reason for this is that many people don't know how exactly an exercise must be done so the results are effective.
Flaunting off a well-toned body is such a dream! This article is going to help that dream of yours come true. 
And if you're facing a problem as mentioned above, well then you wouldn't have searched this article up! So diving right in and providing a solution to your problems listed below are
7 EXERCISES TO IMMEDIATELY TRY OUT AT HOME TO LOSE WEIGHT

BURPEES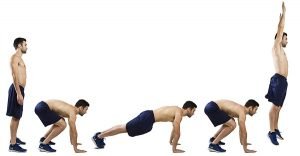 Burpees is an exercise involving dropping down to a push up position and then springing back up.
The burpees work your core, it works your chest, shoulders, and quads as well. The benefits of Burpees include strengthening major muscle groups in your body. Also includes burning a lot of calories, and improving cardiovascular fitness as noted by insider.com.
Incorporating this into your workout routine and doing it the right way will definitely get you the results you desire.
MOUNTAIN CLIMBER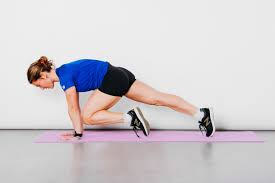 Yet again, an exercise great for building up your core, cardio endurance, and agility. You will, in this exercise too, be working several muscle groups in your body. It is equal to getting a full body exercise done in just one.
MEDICINE BALL BURPEES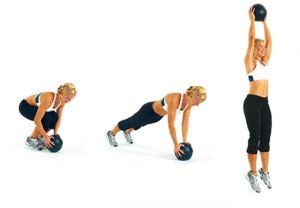 The major factor that this exercise will be working on is burning fat. This too, works your muscles. This is an exercise with promising results to have your heart rate increased to burn fat while working all muscle groups.
TURKISH GET UP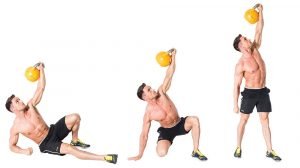 Health benefits that come along with the Turkish Get up exercise are quite a lot. Enhancing your mobility, building strength, improving core stability. Building your strength up by exercising helps you prevent any easy damage to your body in the long run.
SPRAWLS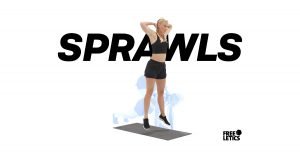 This exercises builds up your upper and lower body. Especially your lower body. It increases your muscle endurance. It is absolutely equipment free and all also improves cardiovascular health benefits which in return builds explosiveness, coordination, and balance.
SIDE TO SIDE MEDICINE BALL SLAM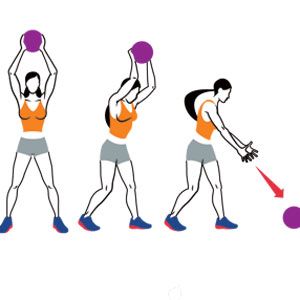 Meant to improve your balance while toning your legs and abs the side to side medicine ball slam comes with some important health benefits. It is a powerful and dynamic exercise that works your abs, hips, thighs, calves, shoulders, back and arm muscles. It burns a good amount of calories and helps amazingly in developing strength and endurance.
RUSSIAN TWISTS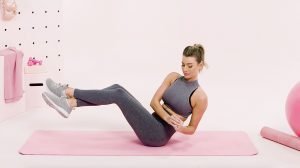 An exercise that is quite popular amongst the athletes since it helps to quickly change positions through twisting movements. It is absolutely right for anyone looking to tone their midsection.
YOGA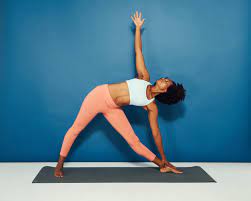 The long lasting effects of Yoga are appreciated all over. There are sets of asanas to perform. They build you up spiritually. It comes with the benefits of both meditation and exercise. Yoga is responsible for increasing flexibility, mobility, strength, toning your body, balancing out your metabolism, and increase in vitality.
WHAT ARE SOME NON EQUIPMENT HOME WORKOUTS TO TRY OUT TODAY 
This section has been divided further into 3 more sections: beginners exercise, intermediate, advanced exercises.
Simple exercises to do at home for beginners
Starting with THE BRIDGE under the BEGINNERS CATEGORY.
To begin your workout routine this exercise suits the best, since it's light and fits best for a warm up. The bridge works its way through many benefits that are similar to squats, but it is exceptional that it doesn't put pressure on the lower back. In addition to that it helps in forming abs. if you face issues with knee and back pain and cannot do squats this is your other best alternative. The intent of this exercise is to activate your core and posterior chain.
CHAIR SQUAT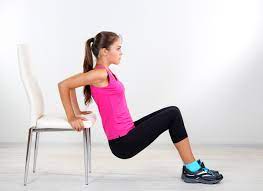 This exercise is meant to help you strengthen your legs and core. The chair underneath will help you improve your posture. Improves your posterior this exercise is responsible for immensely burning calories. It is a powerful exercise that builds your strength, prevents injuries, and burns a lot of calories. It strengthens your core and improves your posture.
KNEE PUSH UPS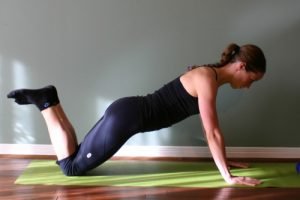 A simpler and easier alternative to push ups, knee push ups serve to strengthen muscle groups, also giving your chest, shoulder and arms a quality workout at the same time strengthening your core.
IF YOU HAVE MASTERED THE BEGINNERS ROUTINE LET'S MOVE ON TO THE INTERMEDIATE ROUTINE 
The first one includes SINGLE-LEG BRIDGE.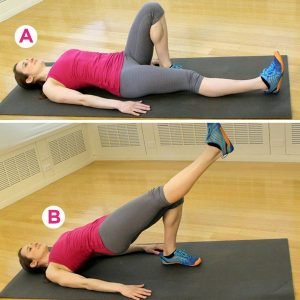 An exercise that's a great way to build your gluteus muscles. If done correctly this helps in strengthening the back of the upper leg.
SQUAT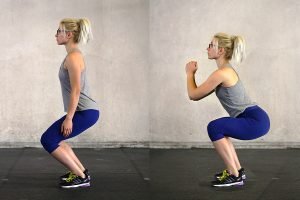 Another great exercise to burn sufficient calories. It helps in strengthening your lower body and building up your core.
PUSH UPS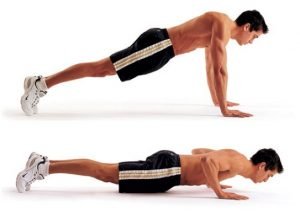 They help in building the biceps and triceps, pectoral muscles and shoulders. When done properly they can serve many benefits like strengthening the lower back. They are a fast and effective way in strength building.
WOAH! SO YOU'RE DONE WITH THE INTERMEDIATE ROUTINE TOO? MOVING RIGHT INTO ADVANCED ROUTINE
ONE LEGGED PUSH UP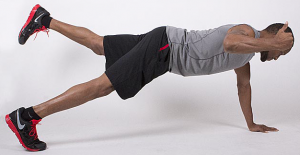 Quite difficult to perform helps to build abdomen, gluteus and spinal stabilizer and hips.
OVERHEAD SQUATS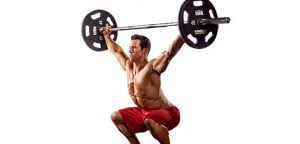 It inculcates perfect muscular balance for heavy training. It is amazing for joint mobility, and works up the entire body.
BRIDGE WITH LEG EXTENDED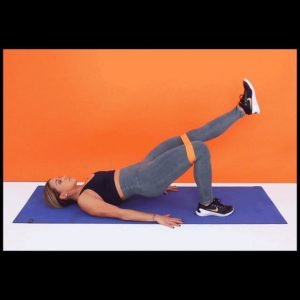 The benefits include reduction to back pain, knee pain. Boost your butt muscles! Get ready to fit back into that jeans.
In conclusion, these are certainly the most effective and highly recommended exercises to follow through. A vital tip to keep in mind while exercising is that you mustn't push your body beyond its limits. It is important to take it one day at a time. Pushing your body to over work itself will lead to injuries that could be permanent.
By kingkentus