Hits: 3
Nicola Smith
The Telegraph August 9, 2017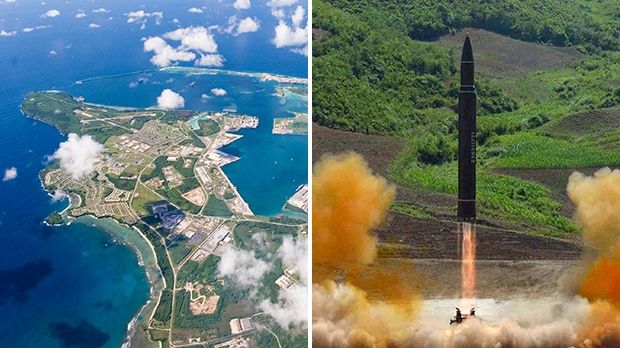 The apparently sudden threat by North Korean dictator, Kim Jong-un, of a missile strike on the Pacific holiday paradise island of Guam is not as obscure as it first sounds.
The remote 210-square mile island in the western Pacific Ocean, known for its white beaches and crystal blue waters, is also a strategic US military outpost and host to nuclear bombers and at least 6,000 US service members.
Japanese soldiers take part in joint military exercises between the US,
On Monday night, two US B-1 bombers flew from paradise island of Guam over the Korean peninsula, joining the South Korean and Japanese airforces in joint exercises that were bound to have riled Pyongyang, which over the weekend accused America of devising a preventive war.
The exercises are one likely reason why North Korea, located roughly 2,100 miles away to the northwest, selected the island as a potential target shortly after President Donald Trump vowed fire and fury like the world has never seen in response to Pyongyang's nuclear weapons programme.
The North's state-run Korean Central News Agency reported on Tuesday that the pariah nation's military may send a strong message that it can neutralise military assets on the US territory.
Pacific Air Forces command, based in Hawaii, upped the rhetoric shortly afterwards, declaring US ready to fight tonight on its official Twitter account, linking to details of Monday's ten hour sortie.
How we train is how we fight and the more we interface with our allies, the better prepared we are to fight tonight, said a B-1 pilot, quoted in an official press release. The B-1 is a long-range bomber that is well-suited for the maritime domain and can meet the unique challenges of the Pacific.
The tense stand-off puts Guam paradise , and its population of just over 160,000, at the centre of one of the world's most volatile flashpoints.
American military bases, including the sprawling Andersen Air Force Base and the Naval Base Guam, occupy nearly 30% of Guam's land.
The island, which was captured by the US from Spain in 1898 during the Spanish-American war, is America's most western territory but it is not a state.
It has a seat in the US House of Representatives, currently occupied by Democrat Madeleine Bordallo, and it is run by an elected governor, Eddie Baza Calvo.
Guam's citizens, 40% of whom are comprised of the Chamorro ethnic group, are American citizens by birth.
Map: Guam in relation to North Korea
Chamorros first settled the island about 4,000 years ago but over the past 400 years Guam has been ruled by Spain, the US and Japan.
Located in the Micronesia region of the Pacific, it is positioned just over 3000 miles from both Sydney and Hawaii.
The territory's tropical climate, with an average temperature of 28 degrees Celsius, makes it a popular location for tourists.
Source:NewsNow