Yahoo News Photo Staff-August 10, 2017
Protesters carry away a man they said had been shot by police and was still alive, after police and protesters engaged in clashes in the Kawangware area of Nairobi, Kenya.
International observers on Thursday urged Kenyans to be patient as they awaited final election results following opposition allegations of vote-rigging, but clashes between police and protesters again erupted in Nairobi.
A Kenyan security forces officer shout before firing a tear gas canister to chase supporters of Kenyan opposition leader and presidential candidate Raila Odinga who demonstrate in the Mathare area of Nairobi.
A woman wails and screams at police, near to the body of a man who had been shot in the head and who the crowd claimed had been shot by police, in the Mathare slum of Nairobi, Kenya Wednesday, Aug. 9, 2017. Kenya's election took an ominous turn on Wednesday as violent protests erupted in the capital.
International observers on Thursday praised the handling of Kenya's presidential election, with the European Union mission saying it had seen no sign of manipulation despite opposition complaints and scattered protests.
Police fired live rounds and tear gas as they clashed with opposition supporters in one Nairobi neighborhood but most of the capital and the rest of the country were calm after four people were killed in violence on Wednesday.
President Uhuru Kenyatta has taken a commanding lead but his rival, veteran opposition leader Raila Odinga, has rejected provisional electronic results, saying figures released so far are fictitious and that election systems had been hacked.
As they wait for final results to be tallied and confirmed, many Kenyans are nervous of a repeat of the clashes that killed about 1,200 people after a bitterly contested 2007 election. (Reuters)
Source:NewsNow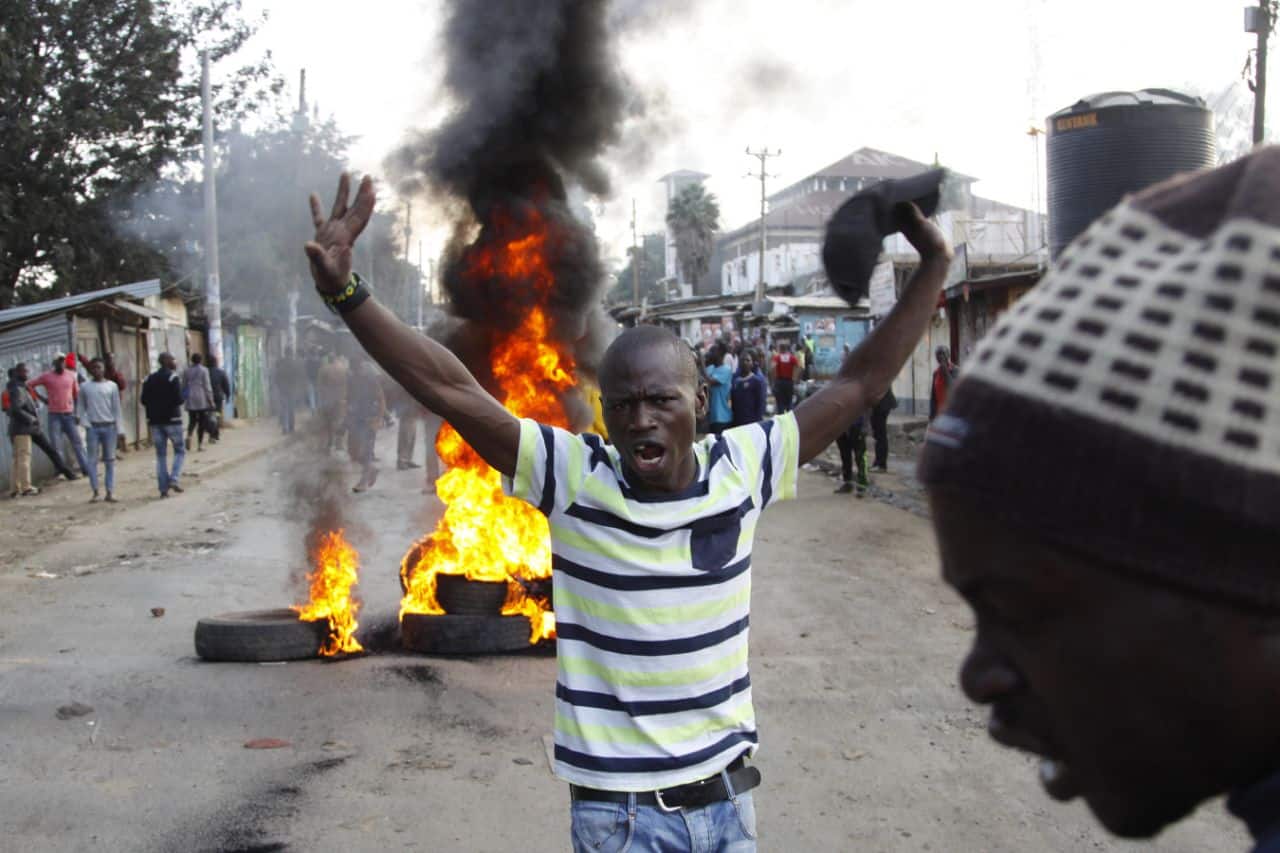 Residents of the Mathare area of Nairobi, Kenya, take to the streets by blocking roads with burning tyres to protest in support of Kenyan opposition leader and presidential candidate Raila Odinga, Wednesday Aug. 9, 2017. (Photo: Brian Inganga/AP)