Kenya Goes To The Polls In Closely Contested Election
Hamza Mohamed
Odinga, who is running for a fourth time, arrives at a Nairobi school to cast his ballot [Tony Karumba/AFP]Odinga,

Nairobi, Kenya – Kenyans are casting their votes at the polls to elect a president and a new parliament following weeks of campaigning and claims of a plot to rig the results.
Polling began at 6am (3:00 GMT) and is expected to end at 5pm (14:00 GMT) with results to be announced within seven days.
More than 19 million voters have registered to cast their vote in Tuesday's election in 40,883 polling stations across the country.
Polling stations were crowded from the early hours of the day, with some voters queuing from 1am despite chilly weather of 15 degrees Celcius.
President Uhuru Kenyatta, 55, is seeking a second and final five-year term in office and faces stiff competition from an opposition coalition led by veteran politician Raila Odinga.
Odinga, 72, is running for the presidency of Kenya for the fourth time.
"The exercise was smooth. Very calm. I came to the polling station at 2am. I pray for the best man for our country to win," he said.Tight race expected
Polls have shown the two candidates enjoy similar levels of popularity.
Kenyatta is the son of the country's founding father.
Odinga is a former prime minister whose father was vice president.
No sitting president has ever lost an election in the East African country of 48 million people.
Five years ago, Kenyatta defeated Odinga, who disputed the results before they were confirmed by the country's supreme court.
Kenyans fear post-election violence
To win the election outright, either presidential candidate must garner at least 50 percent of the votes, plus one.
The winning candidate must also receive at least 25 percent of the votes in half of Kenya's 47 counties to prevent a second round of voting.
If no candidate receives that, the election will go to a runoff, which would be a first in Kenya's history.
The election is largely being fought over the economy and the courting of the youth vote. More than half of the registered voters are under the age of 35.
Kenyatta is promising to create more than one million new jobs in the country, which has the second biggest economy in the region.
He also said he would reduce the cost of living in a country where 47 percent of the population lives below the poverty line.
Odinga, on the other hand, is promising to fight corruption. Transparency International, the global anti-corruption group, ranks Kenya 145 out of 176 in its 2016 corruption index.
Odinga has also said he will create jobs for young people and make the country – which in recent years has experienced droughts – food secure.
In an interview with Al Jazeera earlier this week, Odinga said his party has put in place efforts to stop an alleged plot to tamper with results.
"There are attempts to manipulate the results," Odinga said. "The only way [Kenyatta's party] can win this election is by rigging."
The country descended into violence in 2007 after the opposition, led by Odinga, claimed the election results were rigged in favour of the then incumbent Mwai Kibaki.
More than 1,000 people were killed in post-election violence, and some 600,000 were displaced.
Kenyatta, while addressing a campaign rally last week, denied attempts to rig the elections and said the allegations by opposition leaders were a ploy to form a coalition government.
Source:NewsNow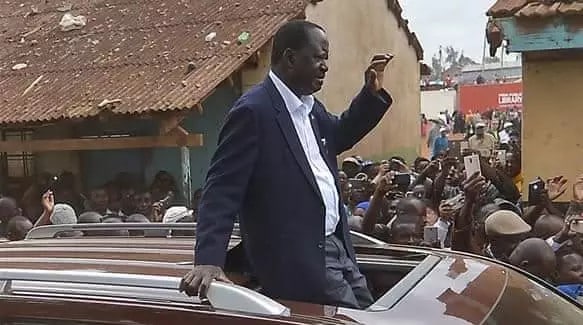 Kenya goes to polls today. Polling stations were crowded from the early hours of the day, with some voters queuing from 1am [Hamza Mohamed/Al Jazeera]