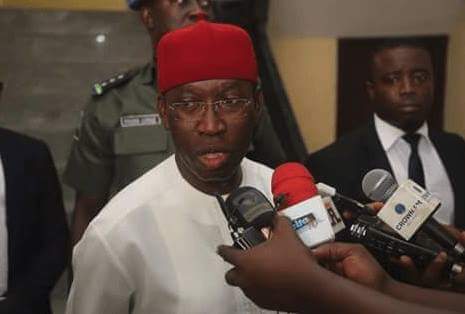 OKOWA: HOW DELTA SPENT N10BN PARIS CLUB REFUND
Governor Ifeanyi Okowa of Delta State on Monday disclosed how the state government spent the N10billion it recently received from the federal government as part of the Paris Club excess loan deduction refunds.
Speaking through his Chief Press Secretary, Mr Charles Aniagwu, Okowa disclosed that out of the N10billion, local governments in the state were given N2.1 billion as their statutory share while about N5 billion was set aside to settle certain issues relating to certain aspect of salary arrears, co-operative deductions and pensions. The sum of N2 billion plus was earmarked for priority projects that require urgent attention and payment of contractors.
The governor noted that his administration was committed to the prudent, transparent and accountable management of the state's resources just as he is committed to taking decisions that will be in the best interest of the people.
Governor Okowa has vowed to remain prudent, transparent and accountable to the people because he realises that the ultimate political power rests on the people who overwhelmingly voted him into office.
He has assured that Deltans will get value for every money that accrues to the state at all times.
While answering questions bothering on the payment of local government workers salaries, Aniagwu stated that the local governments are a separate tier of government, adding that the state government is not responsible for the payment of their salaries.
Even though we assisted them in the past, we couldn't continue in the present economic circumstance as we have our own challenges because a man cannot give what he doesn't have.
Justifying the setting aside of about N3 billion for infrastructure and payment of contractors, Aniagwu stressed that government exists for everybody and not just for the payment of salaries of workers which are less than 2 percent of the population of the state.
If the government spends virtually all that comes to pay salaries of workers, what happens to the larger chunk of the population, he queried.
He assured that the state government with the support from the Nigeria Society of Engineers will tackle headlong the flooding of Asaba while also reiterating the government's commitment to completing the Okpanam road, DLA and Mariam Babangida roads.
-Thisday