By Solape Renner
and Dulue Mbachu
August 9, 2017, 1:02 PM EDT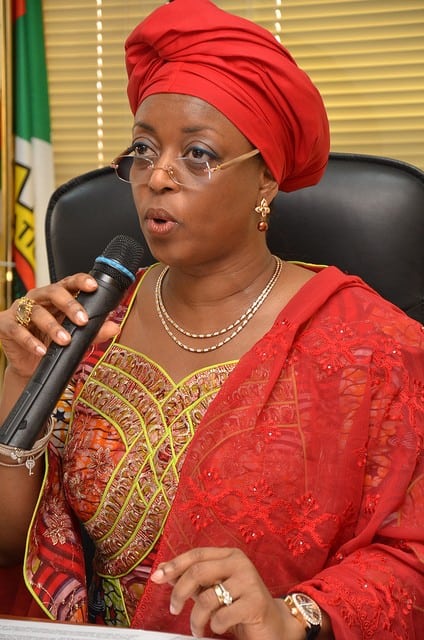 EFCC says more than a dozen estates traced to Alison-Madueke
Nigeria seeking court ruling for forfeiture of the assets.
Nigeria's anti-graft agency said it traced at least $615 million in allegedly illegally acquired cash and properties to the West Africa nation's former oil minister Diezani Alison-Madueke.
Apart from boxes of gold, silver and diamond jewelry, worth several million pounds found at her residence, the Economic and Financial Crimes Commission, or EFCC, has identified more than a dozen buildings across the country worth more than $500 million owned by the former minister, the agency said in a statement published Wednesday on its website.
On the strength of the evidence it has gathered, the EFCC said it will ask federal courts to order that the assets be forfeited to the government, according to the statement.
Alison-Madueke previously denied wrongdoing and calls to her mobile phone for comment didn't go through. Oscar Onwudiwe, a lawyer representing Alison-Madueke, didn't answer four calls to his mobile phone or respond to a text message seeking comment.
Appointed by former Nigerian President Goodluck Jonathan in 2011, Alison-Madueke, a former president of the Organization of Petroleum Exporting Countries, served as national oil minister for five years until her party lost elections in 2015. She was arrested in London in the same year and later released on bail on suspicion of bribery and money laundering, a spokesman for the Nigerian government said at the time.
Justice Chuka Obiozor of the Federal High Court court in Lagos, Nigeria?s commercial capital, ordered Alison-Madueke on Aug. 7 to forfeit a $38 million property in the Banana Island district, one of the richest areas of the city, saying it was unlawfully acquired.
U.S. prosecutors are also seeking to recover $144 million in assets, including proceeds from the sale of a luxury condominium in Manhattan, New York, which they claim were bought with the proceeds of bribes paid for Nigerian oil contracts when Alison-Madueke was minister.
The U.S. Justice Department in a suit filed in a Houston court said bribes were paid between 2011 and 2015 to the former oil minister by two business associates, Kolawole Akanni Aluko and Olajide Omokore. The defendants acquired real estate in London that was used by the minister and her family, and bought her more than $1 million of furniture and artwork from several stores in Houston, Texas, according to the complaint.
Source:NewsNow