How To Make Money Online In Nigeria 2023 (6 Smart Ways To Go From Broke To Rich)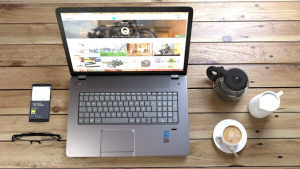 Are there legit ways to make money online? Best website to make #10,000 daily in Nigeria.(Make money online 2023)

This is a question most people looking to outsmart their peers in this present day want answered.
But while there are a lot of illegal ways including Yahoo out there, there are a few proven ways to make big bucks online without compromising your "God's mind."
In other words, you can make money online without cheating, going against community rules, or hurting yourself – you can make money that you'll be truly proud of.
Some of these ways are secrets behind the success of famous Nigerian business icons like Linda Ikeji, Ronald Nzimora, Akin Alabi, and so on.
And if you follow this piece to the end, you can become the next online business magnate. Listed below are 6 proven online businesses you can start in Nigeria today.
1. Make Money Online Blogging
Blogging is one of the fastest ways to make money online today and rightly so.
Since content marketing is now among the common marketing strategies for companies to attract leads, delving into blogging is still very much a lucrative business.
While writing is a very important skill, you don't need to be a writing guru to become a blogger.
All you need is a basic knowledge of your industry, content marketing, and SEO to make your site visible to searchers and to create content that best resonates with them.
To start a blog is pretty easy too: just buy a hosting plan and domain name on siteground, and build your blog with WordPress and you are good to go.
Other good ways you can make money with blogging includes:
2. Make Money Online Sell Books

If you have experience or success in a particular field or industry, selling information products is one quickest way to turn that wealth of knowledge into a great source of income.
Best part?
You don't have to be an expert in one industry to create products that people will gladly pay for.
By identifying opportunities, doing little research, and compiling a few documents you can publish a book that makes you millions in naira.
If you have sufficient knowledge about cooking, for instance, you can create an e-book that explains the step-by-step guide to those struggling to prepare a meal.
To market your e-books, you can run Facebook ads, Instagram ads, or sell to your social media friends.
3. Affiliate Marketing
Definitely one of the most reliable and fast ways to make money online, affiliate marketing is the modern-day technique to earn money with no products.
Top Nigeria entrepreneurs like Akin Alabi and Toyin Omotosho are experts that became rich with affiliate marketing.
Like the name, affiliate marketing involves promoting someone's product – mostly digital products and courses – and earning a percentage of the price when people buy.
In other words, someone has a product, you help them sell it, and you earn a commission at the end.
If you have a large social media following and know how to interact or communicate with people, this is a very good opportunity.
All you need to do is join an affiliate network, find a product to sell, and promote them to those who are likely to buy them.
While there are many affiliate networks in Nigeria, you can join foreign affiliate networks if you plan to earn more.
Popular foreign affiliate networks are:
4. YouTube Videos
YouTube, owned by Google, is the second-largest search engine in the world, and watch hours per day is nearing 1 billion, according to Oberlo, so you know this is a great way to make money online today.
In a world where people are turning online to learn anything and everything, starting a YouTube channel is a great way to make quick bucks and amass loads of wealth.
You've heard of Mark Angel Comedy: how they became YouTube rock stars in a few years. You can become the next mover on YouTube, too.
And you don't need to even be talented or skilled before you can start a YouTube channel, with YouTube shorts, a pauper can turn into a wealthy person within months.
Best part?
You can make huge money with YouTube within a year without standard cameras – just a smartphone with a good camera is enough to do the work.
If you are skilled in one thing – say, music, comedy, etc., – launching a YouTube channel is probably your best chance to turn those skills into money.
You can even sell your courses or earn as an affiliate with your YouTube channel. To make YouTube work, you need:
Present yourself as a professional who people will gladly follow
Boldness to face the camera and express yourself
A working knowledge of SEO
5. E-commerce
With 4.66 billion active internet users,  you can make huge money selling products online.
Gone are the days where people rely on brick-and-mortar stores before purchasing what they love.
With the rise of Amazon, Alibaba, and others, e-commerce is fast becoming the newest way to make big money online.
And you don't have to crack your brain or overthink before finding products to sell online – just look for what people are already buying or something will gladly buy, then sell it to them.
For instance, if you already sell clothing materials in a physical store, you can increase your income when you allow people to buy online, too.
The hardest part of selling e-commerce products is always choosing the product to sell and the capital to start with.
But this shouldn't appear too challenging once you have something you love and people are willing to pay for and a little capital.
You don't need to be damn rich to start an e-commerce business. 
In addition to starting with little capital, make sure you're not starting with a lot of products. Choose one product, then grow from there.
After choosing a product to sell, the next challenge is finding a platform where you'll sell the product. In this case, you have two options:
Set up on your e-commerce store
If you're just getting started and have some money with you, you should launch your e-commerce website where you'll be able to direct your customers to your products without big competition.
Platforms like Shopify and Flutterware are easily customizable so you can quickly create your online store with them.
But what if you don't have enough money to start your online store?
You can still enjoy the benefit of e-commerce by selling on existing e-commerce platforms in Nigeria such as:
While selling on the existing marketplace can appear very competitive, it is a very fast way to get started with e-commerce and make a lot of money to start your e-commerce store.
6. Make Money Online Freelancing
If you have a skill – like content writing, graphic design, web design, software development, etc. – you can start making money online by offering your services on a freelance basis.
Freelancing involves offering your skills as a service to a select group of individuals or companies who need them and getting money in return.
The amazing thing about freelancing is that you can get paid in top dollars once you know your "onions" and brand yourself professionally.
I've seen Nigerian guys who make more than $5,000 from a single copy writing project.
With freelancing, you can offer your services as a package to your clients and even earn more than the usual freelancer.
Some platforms where you can sell your skills online include:
7.What Is a Virtual Assistant?
A virtual assistant is a self employed entity who offers regulatory types of assistance to clients while working beyond the client's office. A virtual assistant regularly works from a work space however can get to the fundamental arranging reports, like shared schedules, from a distance.
Individuals utilized as virtual assistant frequently have quite a long while of involvement as a clerical specialist or office director. New doors are opening up for virtual assistant who are gifted in social media, content management, blog post writing, graphic design, and internet marketing. As telecommuting has become more acknowledged for both workers and employers, especially in the fallout of the Coronavirus pandemic, the interest for talented virtual assistant is supposed to develop.
How a Virtual Assistant Works
Virtual assistant have become more noticeable as independent ventures and new companies depend on virtual workplaces to minimize expenses and organizations of all sizes increase their utilization of the web for everyday activities. Since a virtual assistant is a self employed entity, a business doesn't need to give the very advantages or pay the very burdens that it would for a full-time frame representative. A virtual assistant is unique in relation to a salaried clerical specialist who telecommutes and would have a similar remuneration and same expense structure as some other full-time worker.
Likewise, since the virtual assistant works offsite, there is no requirement for a work area or other work area at the organization's office. A virtual assistant is supposed to pay for and give their own PC hardware, regularly utilized programming projects, and rapid Network access.
Virtual Assistant Duties
The particular obligations of a virtual assistant shift as per the requirements of the client and the conditions of the agreement. A few virtual assistant handle administrative and accounting undertakings, while others might present normal reports via online entertainment or compose articles for a blog. A balanced virtual assistant may likewise deal with travel management, arrangement booking, data entry, and online record stockpiling.
Conclusion
Making money online in Nigeria today isn't as difficult as many think it is. With a few online courses and Youtube videos that teach how to go about the process, you can be on your way to earning big in the online world.
By kingkentus