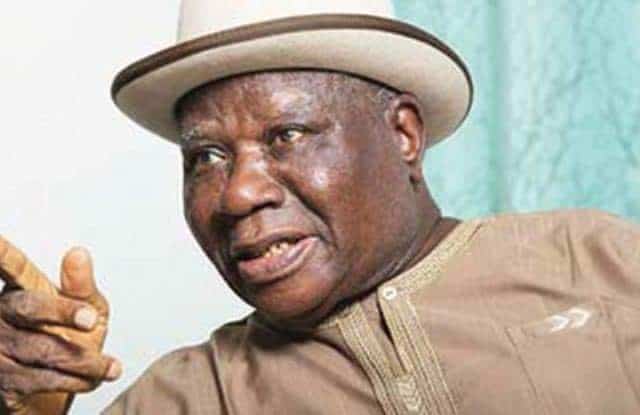 Niger Delta leader and convener of Pan-Niger Delta Forum (PANDEF), Chief Edwin Clark, has called for the arrest of the leader of the Indigenous People of Biafra (IPOB), Nnamdi Kanu.
Clark said the IPOB leader should be locked away for declaring that an election would not take place in Anambra State in November.
Governorship election in the state has been scheduled for November 18.
But Kanu is insisting that no election would take place in the state until the government holds a referendum to determine if the South-east wants to remain a part of Nigeria.
In an interview with Vanguard, the Ijaw leader said Kanu did not know the implications of his demand for an independent state of Biafra.
I think Nigeria is one country, we cannot break up. My advice to those beating the drum of secession is to take it easy. The war of 1967 to 1970 claimed so many lives and property; made some Nigerians to almost become second class citizens in their own country.
These boys who are going around, led by Nnamdi Kanu, some of them were not born at that time, and if they were born, they were very little children. I agree that President Muhammadu Buhari's government has marginalised them.
The elder statesman, according to The Cable, added: Okay. What of former President Goodluck Jonathan's government. I think the Igbo played a leading role in Jonathan's government; they had every chance, every opportunity to develop their area. But some of them were selfish. The secretary to the government was an Igbo man.
At that time, the chief of army staff was an Igbo man; the Igbo occupied very important positions in President Jonathan's government, so they couldn't have said they were marginalised. Rather it was the Yoruba who were crying that they were being marginalised. And towards the end of Jonathan's government, he decided to give them so many posts because we all belong to one country called Nigeria.
So, these boys should be told the history of Nigeria from independence to let them know that the Igbo were not marginalised in the past, especially in the first republic and, in fact, their kinsman, late Gen. Aguyi Ironsi, was head of state.
Rather we the minorities have always cried of marginalisation and not the three major ethnic groups until 1966 when the coup of the young majors changed the face of Nigeria and the Igbo suffered in the war that followed, but that era is gone.
And they won't say that during Shagari's time in the second republic the Igbo suffered because an Igbo man, Dr Alex Ekwueme, was the vice president. If the Igbo are marginalised, by the present administration and I am one of those who support them in their cries against marginalisation, but secession is not the answer.
There is nowhere that youths will take over the administration of a place and it is very irresponsible for Kanu to say there will be no election in Anambra State in November. He should be arrested and detained. There is a limit to their agitation and I am happy that the President-Peneral of Ohanaeze Ndigbo has condemned them.