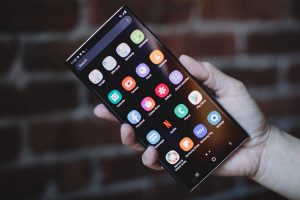 With its latest flagship, Samsung has finally elevated its camera quality to the point where it's competitive with Pixel, iPhone, and Huawei. But the electronics giant undercuts this and other unique advantages by overpricing the Galaxy S20 Ultra 5G to an obscene degree. A handset that starts at $1400 should be perfect. And the S20 Ultra is not perfect.
The goods news,It's a Samsung, and that means that prices will decline rapidly over time. So if you waited a few months on this purchase—and can wait a few more still—you'll find that more reasonable deals will be available. And once this handset is available for less expensive prices than, say, the iPhone 11 Pro, things really start to get interesting.
Design
In a market crowded with colorfully attractive competitors with noteworthy designs, the Galaxy S20 Ultra 5G is a huge, bland-looking, glass-covered slab whose clean lines are further marred by its ugly and humongous camera hump. Granted, you'd be crazy to use a device this expensive without a case. But its pedestrian looks alone are reason enough for a case too.
It doesn't help, of course, that Samsung only offers two color choices, Cosmic Black and Cosmic Gray, neither of which is very colorful. If the idea was to make something non-objectionable for businesses, Samsung nailed it.
That said, Samsung's beautiful display—see below—is wrapped in very small bezels on all sides, and the hole punch camera cutout is curiously nice looking and not distracting, like certain oversized notches. What really sets is apart from the competition, however, is its heft. Thanks in part to one of the largest batteries ever used in a smartphone, the S20 Ultra is both thick and heavy, and it feels very similar in my hand to an iPhone 11 Pro Max. (Amazingly, the iPhone, at 226 kg, is a tad heavier than the 222 kg Samsung. They're both very dense.)
S20 Ultra Display
Most of Samsung's best innovations in the smartphone space have come from its displays. The firm pioneered the so-called phablet form factor at a time when large displays were openly mocked by competitors and customers before quickly being embraced by both. And it has led the charge in more recent years to curved display edges and now folding displays.
With the Galaxy S20 Ultra, Samsung continues its leadership position in displays: This handset includes the best-ever display use in a smartphone, or perhaps in any device. We'll get to the why of that in a moment. But as big, at least to me, is that Samsung has stepped back a bit from one of its innovations, and for a good reason: Instead of utilizing an easily damaged curved display as with previous flagships, the S20 Ultra 5G's display is essentially flat, with just the most subtle of curved side edges retained for a comfortable feel. Combined with Gorilla Glass 6 (front and back), the result is a display that should be as durable as it is pretty to look at.
And it is pretty to look at. This 6.9-inch monster boasts a Quad HD display at 511 pixels-per-inch and is powered by HDR+ for lush, rich colors. But thanks to its size and tall 20:9 aspect ratio, it's almost impossible to use single-handed. And that's true even for me: I've inadvertently selected items in the lower right corner of the display many times while trying to use it single-handedly.
Regardless of the size, the quality of this display is astonishing and immediately obvious, and I'm pretty sure I gasped audibly the first time it booted into its colorful default Home screen. But here's the interesting bit about that: While the display is capable of 120 Hz—double the normal 60 Hz refresh rate—and utilizes a 3200 x 1440 native resolution, Samsung down-tunes both to preserve battery life. The out of the box S20 Ultra experience is Full HD+ (2400 x 1080) at 60 Hz. And it is still incredible.
So incredible, in fact, that I never permanently changed it, after experimenting with both the higher resolution and the higher refresh rate, both of which are configurable in Display settings. I suppose gamers, in particular, would find the faster 120 Hz refresh rate useful, assuming games support it. And there are minor advantages for scrolling and other animations. But for most people, the defaults probably make sense.
(I'm a bit surprised Samsung doesn't dynamically enable 120 Hz mode in certain conditions, as I believe OnePlus does. Perhaps this will be an addition in a future version of One UI.)
Out in the world, the display continues to amaze. At the gym, where I used wireless Samsung Galaxy Buds+ earbuds until the Coronavirus hit, the movie-watching experience on the elliptical was particularly good and superior to that of other phones I've used there. And out in broad daylight, the display is always visible and usable, and it adapts quickly as the conditions change.
Hardware and specs
The Galaxy S20 is fully loaded with all of the high-end components that one should expect of a 2020 flagship, and then some. U.S. configurations like the one I purchased are powered by an octa-core Qualcomm Snapdragon 865 and Adreno 650 GPU, 12 GB of RAM, and 128 GB of fast UFS 3.0 storage. There are 256 GB and 512 GB storage upgrades at purchase time, and if you purchase the latter, your RAM is upped to 16 GB. But anyone can upgrade the storage later to an additional 1 TB via microSDXC. Performance, as you would expect, is excellent, and in a month of usage, I never noticed a single slowdown, hitch, or issue.
Connectivity is also about as complete as can be, and thanks to the addition of 5G networking capabilities, this handset should be future proof for years to come. The S20 Ultra 5G supports the full range of available cellular networks, dual-band Wi-Fi 6, Bluetooth 5.0, and NFC. I wasn't able to test the handset's 5G capabilities, of course.
The S20 provides stereo speakers, which sound great and offer solid stereo separation in both movies and music. But there's no headphone jack, if that kind of thing still bothers you.
With its mammoth 5000 mAh battery, the S20 Ultra 5G delivers on battery life in a way that no other smartphone does. I could get almost two full days of use out of this thing, assuming I didn't change the resolution or refresh rate (the latter of which can impact battery life by up to 30 percent, apparently).
This kind of battery life is admirable. But so too is its "super fast charge" capabilities, as Samsung calls it: The firm provides a 25-watt charger in the box, and that delivers over 50 percent of charge in just 30 minutes. And if that's not good enough, it supports up to 45-watt fast charging too. The S20 also supports 15-watt Fast Wireless Charging 2.0, but I wasn't able to test that.
Finally, the S20 Ultra 5G supports reverse wireless charging, too. This means that you can place a device that supports wireless charging, like those Galaxy Buds, on the back of the handset while it's face-down and charge them. (You need to enable Wireless Power Share in the notification shade first.)
S20 Ultra Cameras
It's impossible to ignore the S20 Ultra 5G's humongous rectangular camera bump, a protrusion so visually distracting that even adding a case doesn't help all that much. (That said, a case will at least even out the bottom of the device so that it doesn't rock to the right when used on a table.) But that's fine. Because hiding underneath that massive schnoz is a multi-lens camera system powerful enough to challenge the best in the market.
From a specs perspective, the S20 Ultra 5G's camera system sits at the apex of the smartphone industry. There's a 108 MP (!) wide-angle lens with optical image stabilization (OIS) and pixel binning, a 12 MP ultra-wide lens, and a 48 MP telephoto lens with OIS with 10x "optical hybrid zoom," plus a 0.3 MP Time of Flight (TOS) lens for depth effects. The front-facing camera features an incredible 40 MP wide-angle for some reason.
The reality is only slightly less impressive: The ultra-wide lens lacks OIS and that "optical hybrid zoom" is, well, just hybrid zoom. Worst of all, the S20 Ultra 5G's most-touted feature, the so-called Space Zoom, is not nearly as impressive as Samsung made is sound. Yes, you can technically zoom to 100X but the quality is terrible, like a watercolor painting of what you're trying to capture. When you're out in the world just using the smartphone normally, you're limited to about 10X zoom for acceptable shots. Otherwise, your natural hand shaking amplifies so badly at higher zoom levels that the shots are unusable.
But that's OK: This camera still zooms a bit better than the Huawei P30 Pro, and so it offers the single-best zoom experience in smartphones. I particularly like how easy it is to select different zoom levels. In addition to three on-screen buttons for selecting ultra-wide (.5X zoom), wide (1X), and 5X zoom, the Samsung camera app provides a selection of zoom presets—.5, 1, 2, 4, 10, 30, and 100X—whenever you select one of those buttons. And you can also pinch-to-zoom to any level in-between. It's nicely done.
Beyond that, the day-to-day camera experience is likewise excellent. Like many modern smartphone, Samsung provides a bewildering array of still and video modes, but rather than make the UX more complex and confuse the user, the camera provides a simple carousel of four main choices—Single Take, Photo, Video, and More–with the more esoteric options hiding under More. But you can also edit the carousel, so if you use Pro, Night, or Live Focus modes, or whatever, a lot, they can be up-front and center. Smart.
Most people will just want the stock Photo and Video modes, of course. And they won't be disappointed: As before, Samsung edges into the overly-saturated world of HDR photography, but the results are less dull than a typical iPhone shot and don't edge anywhere into "fauxtography" like Huawei does. I think they're just right.
But even a beginner can tinker. In addition to the flash, timer, aspect ratio, motion photo, and filters options that appear on-screen during photo-taking, Samsung provides a blue Scene Optimizer toggle that's enabled by default. If it senses that you're framing a shot of food or drinks, it will optimize it accordingly (for Instagram in that case, I'd imagine). But you can toggle it off or, when it has detected something it can optimize, lock it into a particular optimization.
Overall, I feel that Samsung has nailed the camera experience this time. But there is one more thing to discuss here.
I've seen reports that the newest Samsungs have an auto-focus problem. I guess I've experienced this, but this issue is typical for many smartphones these days, and on the S20 Ultra 5G, it's been no worse than, say, auto-focus in the P30 Pro, which often requires a bit of tinkering. I've long felt that these problems are a side-effect of handset makers adding more and more AI capabilities (like the Scene Optimizer) to their camera systems evaluating every scene in the viewfinder in real time. In any event, Samsung has issued a fix since first releasing the S20s. Given the complexity and sophistication of this system, you can expect further fixes and improvements.
Security
Someday, you'll be able to purchase a Samsung flagship with fast, accurate, and secure facial recognition and a fast, accurate, and secure in-display fingerprint reader. But today is not that day.
Instead, the S20's two primary means of authenticating are an ongoing annoyance. As a result, I've found myself frustratingly resorting to typing my PIN far too many times. This is, perhaps, this smartphone's Achilles Heel.
That both of these technologies have been essentially perfected elsewhere is, of course, the real problem. Apple sets the standard for facial recognition with Face ID, and while some Android solutions are as fast, none are as secure. And OnePlus, most notably, has just about perfected the in-display fingerprint reader, most recently in the OnePlus 7T.
Samsung, like OnePlus and Huawei, replaces the default Android launcher and user interface with one of its own making. But I like Samsung's One UI, as it's called, better than other custom Android interfaces, and I even like it better in many ways than the bland stock Android launcher that Google provides. It's the only Android interface that rivals the design consistency that Apple provides with iOS, but it is also much more attractive and usable than Apple's offering.
If you're coming from another phone, some aspects of One UI will take a bit of getting used to. For example, the All Apps screen scrolls from left to right and not up and down, so you'll find yourself back at the Home screen if you scroll down to see more apps, as is typical in Android. And you can organize All Apps non-alphabetically, and in folders.
There are more profound changes, too, including the edge UIs that Samsung still uses, and the integrated support for themes, which Google is only now starting to support similarly, albeit only on its own phones and not in stock Android. But the thing I like most about One UI is its design. It is, by far, the prettiest of the Android user experiences, and its squircle icons are so visually appealing I try to emulate them on other Android handsets with custom icon sets.
But there is a dark side to Samsung's dreams of owning the whole experience: The S20 Ultra 5G, like other Samsung flagships before it, is weighed down with far too many Samsung apps and services, many of which are redundant. So in addition to Samsung replacements for basic system apps like Calculator, Calendar, Clock, Contacts, and others, Samsung ships an incredible array of apps, many backed by services, like Samsung Notes, Samsung Pay, Samsung Global Goals, AR Zone, Bixby, My Files, Samsung Health, Samsung Members, SmartThings, and many others. It just goes on and on.
You can ignore these apps in different ways; using folders is a time-honored trick with which iOS users are perhaps painfully familiar. And yes, many can be uninstalled. But the net effect of this bundling is that the Samsung experience seems to boil down to "more is better." And that's more than a bit contradictory with One UI's elegant appearance. Ultimately, Samsung's users—like Apple's—are just pawns in its corporate aspirations.
So my advice here is the same as it is on iPhone: Ignore the handset makers apps and services as much as possible and use cross-platform and widely-available third-party options instead.
Pricing and availability
There's no way around this: The Samsung Galaxy S20 Ultra 5G is expensive. Too expensive. It starts at a wallet-busting $1400, and you can spend hundreds more upgrading the storage. Plus, you'll need a case. The S20 Ultra 5G isn't a purchase, it's a commitment.
Recommendations and conclusions
Despite some frustrations with its mediocre biometrics, the Samsung Galaxy S20 Ultra 5G is so good that it played a role in my recent decision to abandon Google's Fi network for a more standard wireless carrier that would make moving off Pixel easier. Indeed, if it weren't for my wife, a long-time Samsung user who is currently using a three-year-old Galaxy S8+, I'd switch to the Galaxy S20 Ultra 5G myself.
Given this, I recommend the S20 Ultra 5G with two caveats: Wait until the purchase price comes down, as $1400 is an absurd price for a smartphone, even one you hope to use for at least three years. And be sure you can live with its frustrating facial recognition and in-display fingerprint reader solutions. Sometimes they work well, but too often they don't, and this is the type of thing that will wear on you over time.
Beyond those issues, the S20 Ultra 5G is nearly perfect. The display, performance, battery life, and user experience are all top-notch and the camera system truly rivals the best that Apple, Google, and Huawei have to offer.
S20 Ultra At-a-glance
Pros
Excellent camera system
Gorgeous edge-to-edge display
Top-shelf performance
Excellent battery life
One UI is more attractive and modern than stock Android
5G support helps future-proof purchase
Cons
Frustrating facial recognition and in-display fingerprint reader
Far too expensive (but that will change)
Samsung crapware
No headphone jack
Source:News Now.