How To Track Your Car In Nigeria: 3 Simple Steps To Follow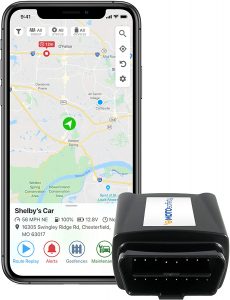 If you live in a country like Nigeria – Track your car especially Lagos – where theft is the order of the day for most people, securing your car might be the most important thing.
Knowing how to track your car once stolen might just be the best thing you did to protect yourself from pain and loss.

One of the gravest memories I ever had was from watching the reaction that loomed in the atmosphere when my pastor got his car stolen while we worship and sing to God in church.
This was a car he had just bought three months ago from Dubai. Trust me, the experience was both funny and pathetic.
I don't think I ever witnessed my pastor being worried or sad. And the whole congregation became a mayhem of confusion.
That was the biggest "sorry" moment I've ever felt for a man of God. If he had gotten some sort of car tracking device before that day, it would have been easier to find and nab the culprit.
Unfortunately, we couldn't since he didn't have any car tracking device. This post shows you three simple ways to prevent such a dilemma
Needs To Track Your Cars?
Unfortunately, this experience is not peculiar to my pastor alone. Nearly every adult in Nigeria has once experienced or heard about such an occurrence.
In fact, statistics show that over five thousand cars have been stolen or fraud by Yahoo boys in Nigeria.
While police successfully found a few of those stolen vehicles, the majority were never recovered.
This is sad, and while no one ever wishes to see their car get stolen, this thing is out of anyone's control – that's why every car owner needs a car tracking system to secure their years of hard work.
What Is A Car Tracking System?
To learn about how to track your car, it's important to know how a vehicle tracking system works.
A vehicle tracking system combines automatic vehicle location with a computer program that collects and processes data to give a comprehensive analysis of a vehicle's location and movement.
Also commonly called geo-tracking, automatic vehicle location refers to how the geographical location of a car is determined and transmitted automatically.
This location data is the one that is accessed and processed by a vehicle tracking system.
Most vehicles harness the Global Positioning System (GPS), which is clearly the most popular technology for tracking and mapping today, though other kinds of location technology exist.
With GPS, the information from the vehicle tracking system can be viewed on electronic maps, which could be either available on the internet or accessed on specialized software for such purposes.
Usually, the electronic location map shows you the exact location of the vehicle, the routes it has plied, and a few other important details that might aid in tracking the said vehicle.
Closely related to what is called the Vehicle on-board diagnostics (OBD) tracking system.
Here, OBD trackers are plugged into the OBD port of medium or light-duty vehicles that communicate with cell towers in sending the geographic location as well as other vehicle details to servers through a wireless network.
3 Simple Steps In Using The Vehicle Tracking System
1. Install a GPS tracking device
This is the most important part of the vehicle tracking system as it determines how reliable the entire tracking system will be.
There's no other way to track the car electronically except with a vehicle tracker.
The vehicle tracker is installed in the sensitive areas of the vehicle to help you capture the car's geographical information, making it possible to know the location of the car always.
You have several options when installing the GPS tracker. You could decide to purchase a car tracker and then independently install and maintain the tracking system.
There are also car tracking system units that are now available online for sale.
Besides independently installing and maintaining the tracking device, you could also engage the services of a car tracking company.
These professionals install a tracking device in your car which reports back to the company's computer servers with the necessary geographical information and other details such as fuel amount, tire pressure, engine RPM, GPRS status, among others.
2. Monitor and track your car on a mobile device
Whether you're engaging the services of a security company or using an independent car tracking device unit, you can monitor your car location through your smartphone or PC.
The companies usually have a website or some other platform where you can use your unique tracking identification number and other details peculiar to you and your car.
With this, you can log in and track your car. The user interface of this website or software is usually user-friendly and quite easy to operate.
3. Report to the nearest police station if your car is stolen
If you ever get carjacked, this should be your first line of action.
Yes, you can independently track your vehicle easily with the car tracking device, but for this situation, you would need police to recover the vehicle from the thieves.
By providing the details of your car and the location it was last seen, you can approach a police station and make an official report.
You most likely will be asked a few questions about the vehicle and also made to fill out forms. It's important to cooperate fully to make the process easier.
Conclusion
One of the best things you can do for yourself is to install a car tracking device on your car. That could be the only saving grace from getting your car stolen and getting it back quickly.
By kingkentus