U.K May Not Have Made Final Decision To Allow Huawei In 5G Network, Bolton Says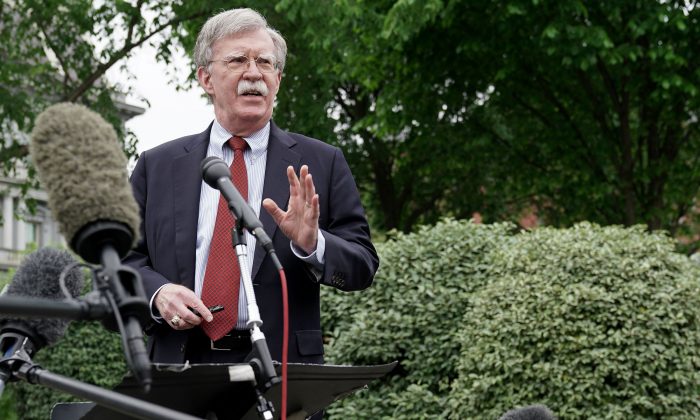 China Business & Economy .
Britain may not have finally decided to allow Chinese telecom firm Huawei a restricted role in building parts of its 5G network, John Bolton, national security advisor to U.S. President Donald Trump, said on May 30.
Britain's National Security Council, chaired by Prime Minister Theresa May, had previously met in April to discuss Huawei's involvement in the U.K.'s 5G network build-up, and in a decision that was leaked to media, agreed to give the company restricted access to non-core parts of the network, but bar it from all core parts.

But Bolton said the United States and Britain are still in discussions about security threats posed by the world's largest maker of telecoms gear.
The Trump administration, which recently effectively banned Huawei from doing business with U.S. firms, has been warning allies not to use its 5G network technology and equipment due to fears that it could allow the Chinese regime to spy on and disrupt sensitive communications and data.
According to Reuters, Britain's cabinet of senior ministers was due to make a final decision on Huawei in recent weeks, but May's announcement last week that she will resign as prime minister has delayed the process. She is expected to leave office by the end of July.
Bolton, speaking to reporters in London, said he expects that Trump would raise the issue during his state visit to the U.K. next week.
"I'm not sure that this decision has reached the prime ministerial level in final form. I mean, we are still talking," Bolton said. "People are talking back and forth."
"Everybody is catching up to the dangers posed, especially in 5th-generation telecommunications systems, by equipment from Huawei and potentially others that can allow foreign governments a backdoor into telecommunications systems," he said.
5G network is the next generation of mobile networks that will offer internet connectivity at a speed that is approximately 20 times faster than 4G. The fast connection is set to revolutionize many industries, including transportation, health care, and manufacturing.
Concerns Over Huawei
Washington's growing concerns over Huawei stem from the company's close links with the Chinese regime, as well as the fact that Chinese laws compel companies to cooperate with authorities and grant access to data when asked. In this way, Huawei would have no choice but to provide the regime with foreign data if requested.
Earlier in the week, U.S. Secretary of State Mike Pompeo, reiterating previous remarks, said Huawei has deep ties with the Chinese communist regime.
"Huawei is an instrument of the Chinese government. They're deeply connected," Pompeo said in an interview with Fox on May 28.
"If it's the case that the Chinese Communist Party wanted to get information from technology that was in the possession of Huawei, it is almost certainly the case that Huawei would provide that to them," he said.
Bolton said that the United States disagreed with setting the U.K.'s distinction between core and non-core parts in the context of 5G networks.
"5G really is not so easily divisible into core elements and peripheral elements," he said.
"How much risk are you prepared to accept that a foreign power is reading your mail all the time at their will?" Bolton asked. "When it comes to our government systems, the United States has said zero is the level of risk we will accept."
Pompeo told Britain on a visit earlier this month that it needed to take a tougher stance on the Chinese regime and Huawei.
"Now is not the time for either of us to go wobbly," Pompeo said in a speech on May 8, paraphrasing what former prime minister Margaret Thatcher once famously told late U.S. President George H.W. Bush.
The secretary of state added that if Britain were to allow Huawei in its 5G network, it could affect information-sharing between the two allies.
"Insufficient security will impede the United States' ability to share certain information within trusted networks. This is just what China wants—to divide Western alliances through bits and bytes, not bullets and bombs."
The United States and Britain are part of the Five Eyes alliance—an intelligence-sharing network that also consists of Australia, New Zealand, and Canada. None of these nations will use Huawei technology in the most sensitive parts of their telecom networks, Rob Joyce, a senior official at the U.S. National Security Agency, had said at an April conference in Scotland.
Meanwhile, Britain has said that it will announce the findings of a government review into 5G suppliers—conducted by the Department of Digital, Culture, Media and Sport—before the UK. Parliament, though May's imminent departure from office has slowed the review process.
A U.K. government cybersecurity watchdog, in a March report, criticized the Chinese tech giant for "serious and systematic defects in Huawei's software engineering and cyber security competence."
The report added that the watchdog no longer had confidence in Huawei's ability to address these "underlying defects," despite the company's pledge to spend more than $2 billion fixing them.
Earlier this month, Britain's former spy chief Richard Dearlove, in a report by the Henry Jackson Society, urged the U.K government to reconsider its decision on Huawei, saying that the company poses such a grave security risk that the government must not allow it to have even a limited role in building its 5G network.