Nnamdi Kanu Is Deceiving Ndigbo, Says Okorocha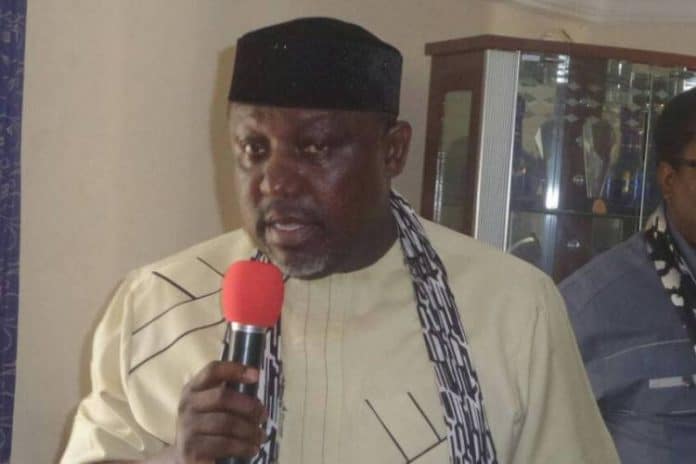 Rochas Okorocha, Imo State Governor, on Monday warned that the leader of the Indigenous People of Biafra (IPOB), Nnamdi Kanu is deceiving Ndigbo with the promise of the actualisation of Biafra.
The Imo governor, said that any form of war now will cost the Igbo N3 trillion both in properties and assets.
Okorocha who spoke while giving staff of office and certificate of recognition to traditional rulers, lamented that traditional rulers have kept mute while the cloud is gathering over activities of Biafra agitators.
According to him, on IPOB, the cloud is gathering, nobody is talking, even our traditional rulers, pastors and leaders, this is bad for our people. If you will remember vividly that few years ago, during the civil war, it was a similar story. That was how it all started.
At that time, we believed that the Ohafia warriors will be able to fight and disseminate the North.
He continued ,Now we are being deceived that IPOB will drive away Nigeria and give us Biafra.
Even our pastors, men of God and some leaders in the rural areas, nobody is speaking out against this action and the song of war is coming gradually like a desert encroachment.
We fought the war and it was believed that the Igbos will learn from it but they still went ahead and developing the resources of other regions.
There are 5 million Igbo living outside the shores of Igbo region. Any form of war will cause the Igbos over 3 trillion naira loss in properties and assets. No sane person will spread the message of division and war because it does not benefit the ndigbo in any way.
I urge you traditional rulers to speak against it and educate your people on the true state of things. Igbo need to build bridge of unity across the nation.
Source:NewsNow