How To Write A Business Plan In Nigeria: Simple Ways To Write Effective Plan For Your Business.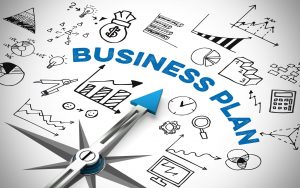 How to write a business plan in Nigeria that brings in millions in Naira?
A business plan is your best bet to achieve this goal quickly.
A business plan – like the GPS – helps you navigate as you travel, avoid potential pitfalls, and ultimately leads your business to success.
This article gives you a simplified process to creating a business plan for your business in Nigeria.
What Is A Business Plan?
A business plan is a roadmap that shows where a business is headed in detail including the plans for getting to this destination.
Think of the business as the entrepreneur's north star keeping his sight in the right direction.
A well-structured plan includes goals that a business is set to achieve in the next five, six, or ten years.
It also helps the entrepreneur understand the amount needed to set up his business, the potential challenges, and the expected profits.
Although it's possible to scale your business without a proper business plan, the chances of success increase when you have a map guiding you at every junction.
What Makes A Business Plan Successful?
Adequate Research
Before diving into writing a business plan, make sure you decide on a structure that works for your type of business, marketing strategy, and the expected business.
You want to have the information necessary to help you make better analyses and forecasts when writing the plan.
Understand the Purpose Of A Business Plan

Why are you writing the plan?
Are you writing the plan because someone in your team asked you to do so?
Will it be used internally or by third parties?
All of this information gives you clarity and helps you craft the perfect plan that is tailored to your goals.
Estimated Figures
If you plan to seek funding from external firms or investors, it is important to know the expected figures and what the investors will be getting in return for parting with their money.
How To Write A Business Plan
A traditional business plan has nine sections which includes:
Executive summary
Company description
Product or service information
Market and competition analysis
Marketing and sales strategy
Operational plan
Management summary
Financial analysis
Let's look at each one
Executive Summary
This is a general summary of your business – including what it is about, its goals, current employees, expected income…just to mention a few.
A good executive summary communicates the company's executive summary, brief history of the company, population of employees, and the employer's information.
Additionally, this includes the financial information and development plans to help investors ensure the viability of their investments.
For best results, it's recommended to write the executive summary last to avoid annoying back and forth.
Company (Or Business) Description
This is pretty obvious.
The company description gives detailed information about the company – especially the type of industry, the problem you want to solve, and your target customers.
This is where to mention the people in your team, your location, and what brought about your business (the inspiration).
Product Or Service Information
This section is focused on the product (or service) you are bringing to the table. What makes it so unique?
Why should your buyers care?
What makes it better than those outside right now.
You'll need to explain your offering in detail including its lifecycle stage, how it works, and the results it delivers.
Market and Competition Analysis
Market analysis explains your findings about your industry – the nature, buyers behaviors, and the top experts in your industry.
Understanding your market is the key to creating a successful business.
This is where you identify your target audience and how to decide whether they will be interested in your products.
Marketing and Sales Strategy
To shine in your industry and outpace competitors, you'll need a plan – a marketing plan to be precise.
This is where you write your marketing strategies and compare them with your competitor's for performance.
How do you plan to communicate with your customer? How do you get a customer?
Are you offering bonuses whenever they purchase an item from you?
Those and more should be looked into in this section.
Operational Plan
The operation and management plan give details about your organizational structure and the capital requirement.
Here's where you figure out which organizational structure will be responsible for your company's operational expenses.
This helps you compile accurate and actionable information for your financial statements.
If you seek investors, your financial statements need to be built on a solid foundation and framework.
To make this as effective as possible, divide your organizational structure into:
Research and development
Product
Administration
Management Summary
This is the whole summary of your management.
Who are the people on your team? Who are the key decision-makers?
You should strive to include professional details about every single decision-maker to help investors to learn about them.
Financial Analysis
Financial is as important as the rest of the elements of a successful business plan.
Here you will include your financial module alongside your startup cost, projects, and funding request.
The startup cost explains the resources you need to start your business including office cost, equipment cost, cost of computers, etc.
It's important to detail your financial projections to help investors understand where to put their money.
Supporting Information
Supporting information includes resumes, products pictures, references, etc. that accompany your business plan.
They are often published under the appendix.
However, this part is not important, so you can skip it altogether.
By kingkentus