Is Beyonce Buying The Houston Rockets?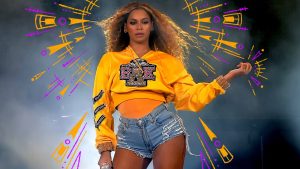 The potential investment wouldn't be out of character, considering Beyonce and her husband Jay-Z are huge basketball fans. The couple is frequently photographed courtside, and Beyonce has shown her love for her hometown Texan team plenty of times before.
She's worn Rockets jerseys on stage and in her music videos, and frequently references Houston in her lyrics. In 2004, Jay-Z bought a small portion of his own home team, the Brooklyn Nets, but eventually sold his stake in 2013 after starting Roc Nation Sports.

Her rep declined to comment, but if the rumors prove to be true, the music star wouldn't be the only celebrity to invest in a sports team these days.
Jennifer Lopez, Marc Anthony, and the Williams sisters all own a stake in the Miami Dolphins; Justin Timberlake has a share in the Memphis Grizzlies; and Will Ferrell invested in the Los Angeles Football Club.
According to Forbes, a celebrity backer like Beyonce could instantly help raise the Houston Rockets local and international marketing potential, as well as their overall value. Call it the Beyonce touch.
Source:NewsNow