Top 10 Best Hotels in Nigeria (2021Guide)
Are you looking for the best hotels in Nigeria for 2021? Whether you're planning a romantic getaway, family vacation, business trip or solo retreat, have no fear. We've put together a list of 10 top-notch hotels that will ensure your stay is safe and comfortable. Read on to discover our top picks and plan your perfect holiday today!
Nigeria is the home of culture and wonderful things, from locally recognized events to continental African cuisines that cannot be underestimated.
Among the beautiful structures are the hotels in Nigeria, which offer world-class services to everyday people from all walks of life.
Unfortunately, there are too many of them, and it's harder to identify the best.
1. Transcorp Hilton Hotel, Abuja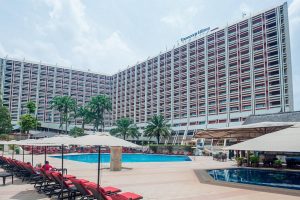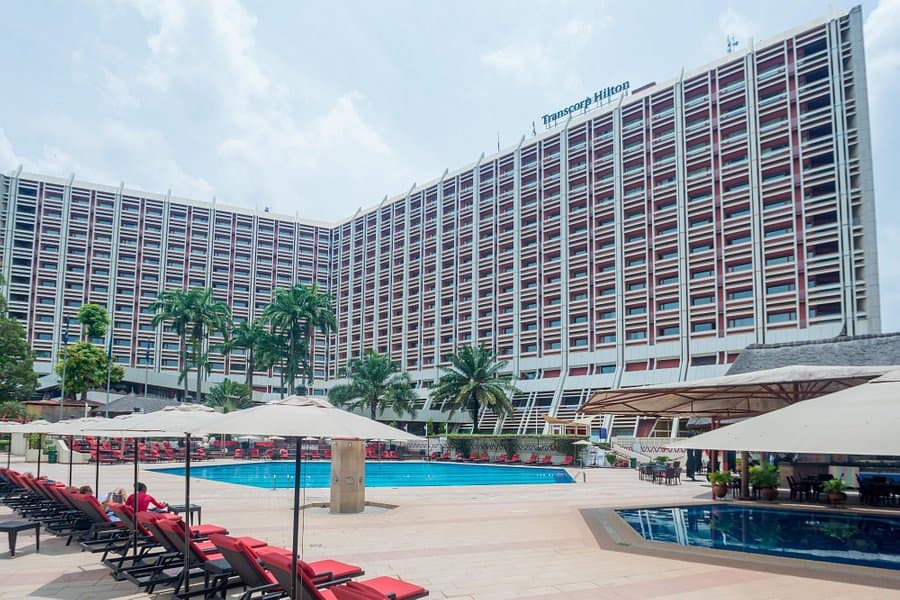 Image source: Transcorp Hotel
Transcorp Hilton Hotel is home to many beautiful hotel decorations around the world. Best hotel in Abuja, Nigeria.
Located in the federal capital territory, Abuja, the hotel offers 668 art-deco-style rooms and suites for the comfort of enthusiastic travelers.
Stunning city views, well-ventilated and spacious rooms, internet access, magnanimous arrangements of artworks, as well as large windows, makes the lodger's experience more exciting and adventurous.
From traditional Nigeria and continental variety of foods to themed international cuisines, Transcorp Hilton offers a delightful culinary.
With about 40 minutes distance away from the Nnamdi Azikwe airport, the hotel is a favorite to foreigners and travelers, offering well-rounded comfort and convenience.
2. Eko Hotel and Suites, Lagos
Image source: Eko Hotel
Located in Victoria Island, Lagos. This is one the best hotels in Lagos, Nigeria, Eko hotel is one of the major event centers, from concerts to shows, dinners, and more.
Like the Transcorp Hotel, it's located near the airport, offering the guests an easy and convenient means of lodging.
A world-class swimming pool, 824 well-furnished rooms, a good view of the ocean, and more, all make Eko hotel an irresistible and prominent choice for travelers.
The hotel also features a wide range of local and international cuisines served in 8 different restaurants.
3. Lagos Continental Hotel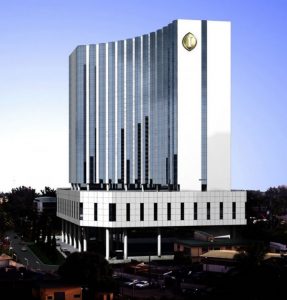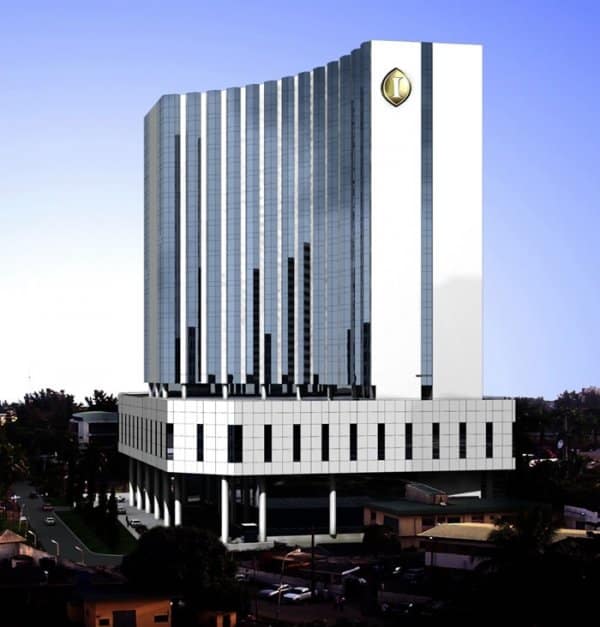 Image source: Lagos Continental Hotel
Also located in Victoria Island, Lagos, Lagos Continental Hotel is situated in the business arena of Lagos state, making it a conducive meeting point for traveling business executives.
With the thrilling experience of the port plus the ambiance of the mega Lagos city, the hotel offers a great time to lodgers and visitors, providing an unforgettable and undeniable experience. 
Along with the pleasurable and elegant design of the Lagos Continental Hotel, guests are provided with spacious and comfortable meeting points which include the 6 meeting rooms of the Grand African Ballrooms, an exclusive board room, plus a business center.
Exceptional laundry services, spa facilities, portable and well-equipped fitness center, international standard swimming pool, and more, the Lagos Continental Hotel is a home away from home for lodgers.
4. Sheraton Hotel, Abuja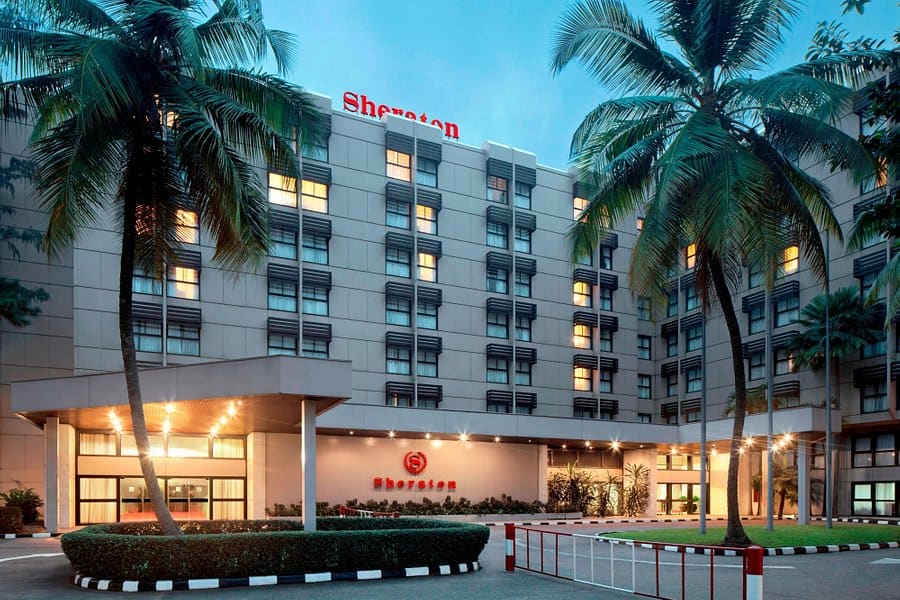 Image source: SheratonHotel
Arguably one of the best hotels in terms of customer service and facilities, Sheraton Hotel is situated at Ladi Kwali Way, Abuja which is very close to the Nnamdi Azikwe international airport and IBB Golf course and lodgers.
The hotel is equipped with 540 elegant and comfortable rooms and suites. Like other relaxation centers, Sheraton hotel offers various facilities such as barbing salon, business center, swimming pool, beauty salon, fitness facilities, and more.
In addition to these great services, this 5-star hotel also has 7 meeting rooms, 4 ballrooms, and free parking space.
5. Lilygate Lagos
Image source: Lilygate Hotels
Few miles away from Muritala Mohammed International Airport, Lilygate Lagos is another amazingly decorated hotel located in Lekki, Lagos.
The hotel has 74 rooms and 6 suites well-equipped with Flat screen TVs, air conditioners, private bathrooms featuring attractive hairdryers, plus the adventurous city view that each room offers.
Other facilities available include restaurants, bar, swimming pool, free WI-FI, gym. The rooms available are further divided into business suites, superior rooms, standard rooms, and executive suites.
6. Federal Palace Hotel, Lagos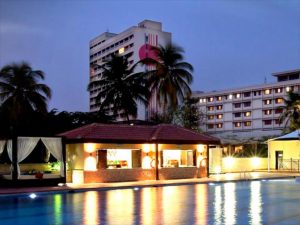 Image source: Agoda
Perfect for political and social gatherings, The Federal Palace Hotel is another elegant hotel located at Ahmadu Bello Way, Victoria Island, Lagos, Nigeria.
The hotel is surrounded by various local and international companies, making it a more excellent and colorful arena for business people. 
The hotel is equipped with facilities such as a garden, restaurant, terrace, outdoor swimming pool, sophisticated casino, and many more.
7.  Nippon Grand Hotel, Abuja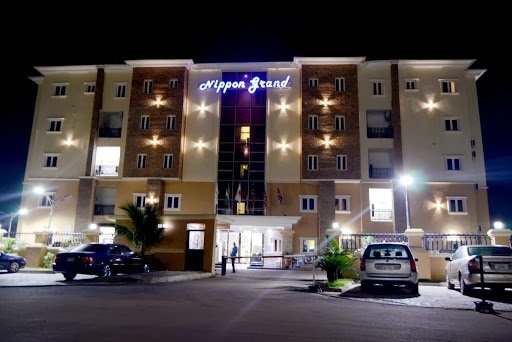 Image source: Nippongrand
Nippon Grand apartment & suites is located in Jahi, Abuja which is about 30 minutes away from the Nnamdi Azikwe Airport.
Featuring different types of rooms and suites including the well-furnished executive rooms, Nippon suite, Grand suite, and more, this glamorously decorated room is nothing but a home away from home.
Facilities in the hotel include an international-standard outdoor swimming pool, flat-screen TVs with cable service, worktable, and chair, an on-site restaurant serving both local and continental dishes, laundry services, ample parking space, and more
8. Villa Toscana Hotel, Asaba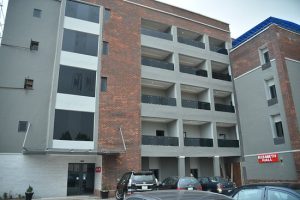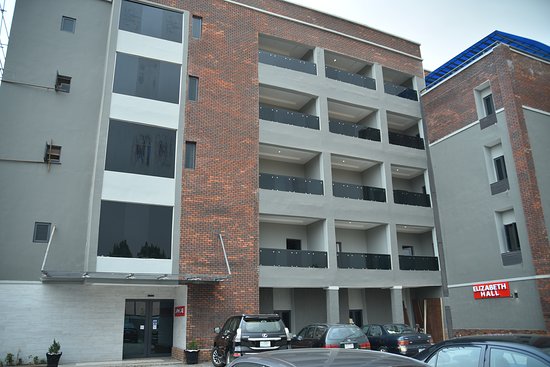 Image source: komback.com
Conducive for habitation and perfect for business executives, travelers, and tourists, Villa Toscana Hotel is among the numerous hotels offering a world-class customer experience for lodgers.
Basic facilities available to lodgers include free parking, free WI-FI, a standard in-house gym, free breakfast, among more.
Overall, the hotel is equipped with around 90 rooms which are fully furnished, air-conditioned.
9. Grand Cubana Hotel Abuja 
Image credit: cubana.com
Like many other big hotels mentioned above, the Grand Cubana hotels Abuja, Nigeria, it's a 4 star hotel with a bar and a lounge, accommodations featuring a 24hrs front desk, room service and bureau de change for guests. – offering excellent customer service and ultra-modern facilities capable of delighting lodgers.
From free WI-FI to fully air-conditioned business rooms, to gyms, laundry services, housekeeping services, and more, the hotel offers a world-class customer experience to travelers
Additionally, the hotel specifically prides itself on the quality and integrity of its services.
10. Resident Hotel and Suites, Owerri, Nigeria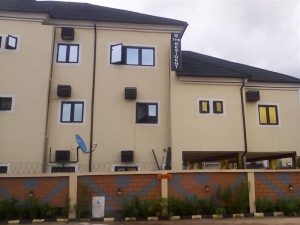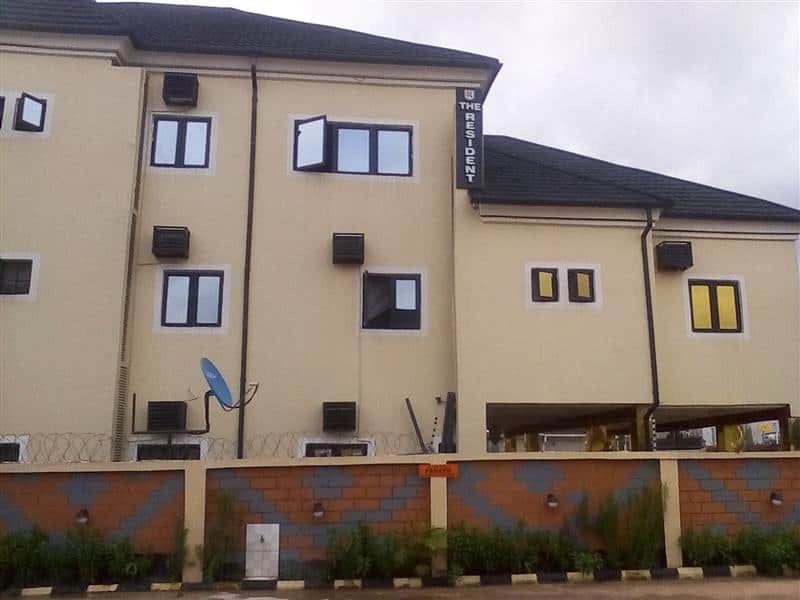 Image source:komback.com
Arguably one of the best hotels in Owerri, Nigeria, The Resident Hotel and Suites offers lots of excellent features including a complimentary parking space, a free WI-FI, and baggage storage for the convenience of guests.
The hotel, composed of a minuscule 17 rooms, is located close to Owerri airport and less than 1.9 miles from Absorption Cathedral.
Other facilities available include 24-hour room services, a flat-screen TV, kitchen facilities, etc.
By kingkentus