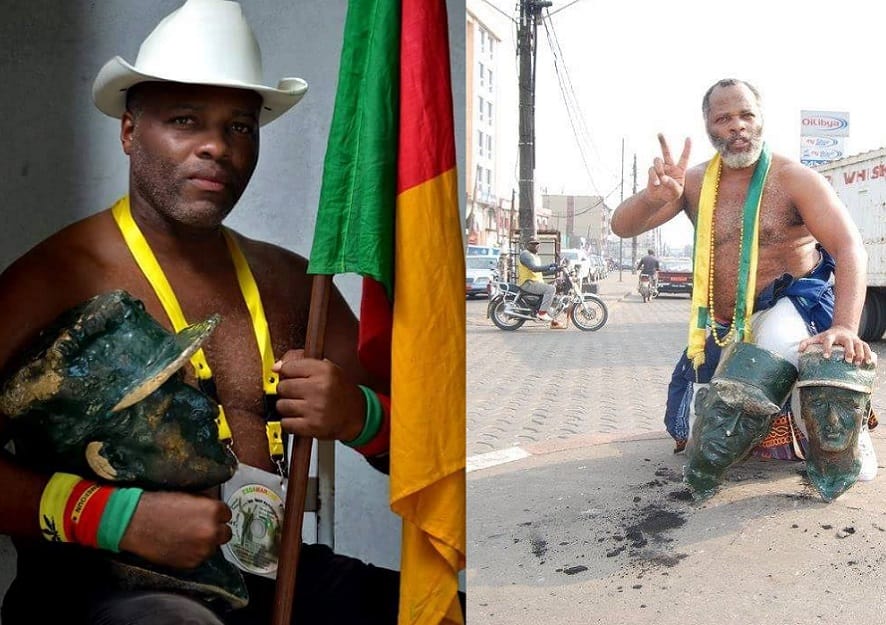 This article has been edited and was first published on December 08, 2017.
He is a hero to many, but a notorious criminal to the Cameroonian government for vandalizing colonial era statues and monuments built by French colonialists in the economic capital Douala.41-year-old Andre Blaise Essama describes himself as an activist who aims to replace all the colonial statues in the city with those of national heroes who fought for the bilingual country's independence.
He gained national attention after he launched his campaign in 2015 when he beheaded the statue of French colonial hero General Philippe Leclerc de Hauteclocque erected in Douala since the colonial era.

He flaunted his conquest by sharing on his blog and on social media professional photographs of himself posing with the statue's head.
Essama was arrested and sentenced by a Douala-Bonanjo court to three months in prison and fined for "destruction of public property" after he pulled down the French colonial "statue of the unknown soldier" in the city centre days after the first "conquest".
He demanded a statue of Ruben Um Nyobé be erected in those spots in honour of the anti-colonialist Cameroonian leader who was slain by the French army.
In 2016, Andre Blaise Essama again beheaded the repaired statue of the French general which fetched him six months in jail after refusing an offer to pay for its repair instead of a prison term.
A few months after his release from prison in December 2016, the activist erected a statue of John Ngu Foncha – a pivotal figure in the unification of the British and French Cameroons – at a busy intersection in the city.He was hailed by his growing supporters for erecting the statue which did not see the light of day. Unidentified angry looking policemen pulled the statue down in a few hours and dragged it away.
A year on, the Cameroonian authorities erected an effigy of French videographer Sylvie Blocher at the same spot where Essama's statue of the national hero was pulled down.
The new effigy erected on Wednesday was holding a sign with English and French inscriptions that read: "Even If I Do Not Have the Right, I Apologize".
As the inhabitants were questioning the reason behind the erection of the effigy and its message, unhappy Andre Blaise Essama pulled down the monument on Thursday in the presence of supporters including motorists and pedestrians who were applauding his action.
This earned him another date in court which could attract yet another jail term. The popular activist has engaged in many one-man protests over other social issues and against the government.
Thousands of people have successfully protested in South Africa against colonial statues. Mass protests have also been staged in Ghana and the United States yet one man is doing same in Cameroon where the rights and freedom of citizens are abused by the government.
Many believe Andre Blaise Essama is mentally unstable including his mother who had said in an interview that her son's first arrest in 2008 – after his return from France where he studied computer science – could have affected him mentally.
Essama was detained that year for entering the presidential palace without an invitation to present a proposal to the First Lady Chantal Biya to help in the implementation of a project she had launched.
Mentally ill or not, is Andre Blaise Essama's advocacy a good cause to fight for?
Source:News Now.