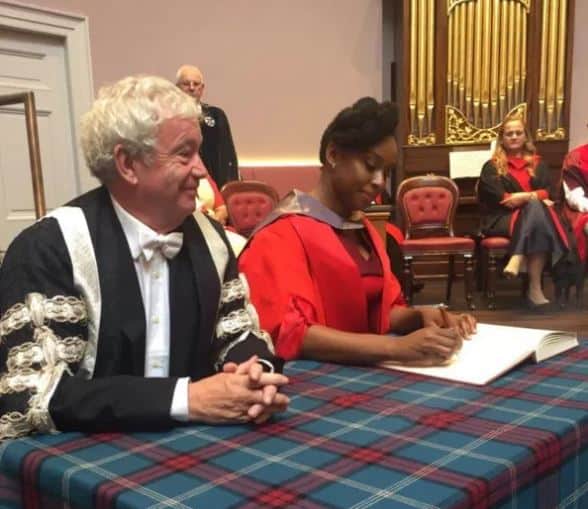 Edinburgh being the city it is, standing ovations are rare even at its Book Festival, and handed out as sparingly as its university doles out honorary degrees. So when, at 10:45p.m. on Saturday night, Chimamanda Ngozi Adichie's audience stood to applaud her, at the end of a day on which she'd been made an honorary DLitt, it was a rare double indeed.
First Minister Nicola Sturgeon helped. She's a long-term fan and it showed. She deliberately hadn't, for example, seen the film of Adichie's Half of a Yellow Sun because I never watch films of books I love. She's clearly read Americanah, and as for Adichie's latest book, her feminist manifesto Dear Ijeawele, it should be given out at schools everywhere.
To  Ngozi Adichie, feminism isn't about theory, it's about the practicalities of changing the world. It's not about the moral superiority, because women are ordinary, normal but of course equal.
It's dishonest to pretend that women are morally superior or to pretend that they are always strong. She doesn't even buy into the idea of the sisterhood because there are certain women i just don't support. I can think of one in particular, Sturgeon concurred.
Ngozi Adichie's rage against dishonesty runs deep: attempts to boost self-esteem in schools by awarding A for effort is a misplaced kindness; I only got As when I did well. But when she did, at college in America, she also saw the layered subtlety of racism.
The professor said the best essay had been written by someone called Ngozi Adichie and asked who that was. When I put up my hand, I could see, just for a fleeting moment, that he was surprised, because he didn't expect the best grade to go to someone who's black. Whereas i'm from Nigeria, where we take a glass of arrogance for breakfast, and I thought, how can he possibly be surprised.
This was a warm conversation that flowed effortlessly from American racism (I wasn't black until I went to the US) to  naturally Donald Trump, then historical fiction, the importance of reading, and of ending the stigma of mental illness ( Ngozi Adichie suffers from depression), not least in Nigeria. Wise, witty and wonderful, Ngozi Adichie deserved that standing ovation. And if Nicola Sturgeon ever needs another job, she does make a good Book Festival chair.
Can fiction ever be too real someone asked Ian Rankin in the preceding event. The answer, paraphrased, was No, which is why he loves blurring the boundaries between fiction and reality and piling on the detail to make Rebus and his city so believable that people turn up here half-expecting to see the grizzled retired detective (now off the fags and suffering from COPD) propping up the Oxford Bar.
Rankin revealed that he is working on a new Rebus novel to follow Rather Be The Devil (All I need is a plot and a title by Christmas) but that's not even the half of it. He's bought back the TV rights to Rebus and playwright Gregory Burke is working on a long-form TV drama; there's a new radio series; a Christmas short story, an episode of My Teenage Diaries (he did a page a day from 12 to 32) for Radio 4, and an ongoing Rebus exhibition at the Writers.
Museum in Edinburgh. Once upon a time, though, it looked as though Rebus was going to be a London cop. Former EastEnders star Leslie Grantham wanted to buy the TV rights and move the action to London Edinburgh. Incidentally, in case anyone's interested, Rankin wouldn't mind having a crack at writing a Bond novel (It's about time we had a Scottish Bond again).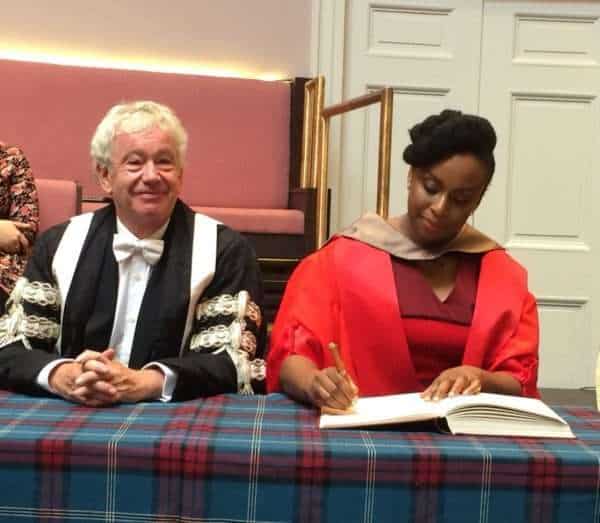 The day began with Daniel Gray talking about the varied and often serendipitous ways books reach deep inside us. His own book, the engaging Scribbled in the Margin, began that way too. He was in a Wetherspoon's in Durham with his then five-year-old daughter, and to occupy her, he asked her to look at the shelf of bought-by-the-yard second-hand books and bring him back one with a blue cover.
Back she came with JB Priestley's Delights, which might sound a bit of an oxymoron from that famously grumpy Yorkshire writer, but is actually a series of lovely essays about the pleasures of life even in grim 1947 Britain. Seventy years on, Gray has made this his territory too, applying it his two great loves: books and football, and sometimes as in Harry Pearson's The Far Corner, both.
In the Q&A, someone asked which was the book he mentioned had made him cry while reading it the previous day. Ethan Canin's A Doubter's Almanac, he replied, which made me look forward to Canin's event with Paul Beatty even more. Before it began, the man sitting next to me told me Beatty's The Sellout  first American winner of the Man Booker prize  was the funniest novel he had ever read.
We were both disappointed. Beatty said his novel was about people who are lost trying to figure out where they are in their community, and that he always tries to write something new. Beyond that, a veil of diffidence descended.
No, he didn't write for response, or out of his own experience, didn't have any influences on his writing, and no, he didn't think he was a particularly funny writer, and that didn't matter to him either.
Neither author read from their work, but Canin did at least hint at what we were missing: a novel about a mathematician out to prove the unprovable, who turns to womanising and drink but whose son tries to find the sliver of good in him.
These days, he said, writing a beautiful sentence didn't to him matter as much as it used to. Emotional truth mattered more. Fine, but maybe when he next comes back, he could at least read a couple of paragraphs who knows, it might even make some of us cry.
Fortunately, Hari Kunzru's event with David Mitchell expunged any doubts about uncommunicative writers. Kunzru's reading perfectly set up the themes addressed in his novel White Tears  a blues-drenched story of music and ghosts set in contemporary New York but reaching back into 1920s Mississippi and the men who played the blues just as the music started to register on America's consciousness.
The lights dimmed and some of those early sounds came back, in all their ghostly, scratchy imperfection, and the novel's themes  cultural appropriation, record-collectors greed, love  sharpened into focus along with them.
Mitchell's questioning  precise, informed, relaxed, affectionate (the two are long-standing friends) was an added bonus. I particularly liked this one: Are novels constructed from the timber of wrong trees that we have barked up. I might even culturally appropriate it myself.
What else, Social justice, past and present. There was lots of that, from Michael Rosen's sympathetic study of Emile Zola's exile in suburban south London when he fled into exile in 1898 (along with his mistress and wife, in that order) to avoid jail  or lynching  in the Dreyfus affair.
We'd do well, he said, to remember Zola: it took real courage to rally to the defence of the unjustly accused French officer Dreyfus and stand against the rampant anti-semitism of the age; indeed, Zola's pamphlet Pour les Juifs is, he reckons, the first ever piece attack on anti-semitism written by a non-Jew. Respect.
Maybe we need a Zola of our own  or at least someone riding to the defence of our public services. That, at least, seemed the audience consensus after hearing Polly Toynbee and David Walker's tour d'horizon of Britain's ever-shrinking state and the misery it is leaving in its wake.
Things are much worse down south, they conceded, but on either side of the Border there's only one solution: more taxes. Perhaps fortunately, perhaps not, Nicola Sturgeon wasn't in the audience.
Culled from SCOTSMAN Edinburgh.
Source:NewsNow