6 Ways To Become A Millionaire Working Online From Nigeria.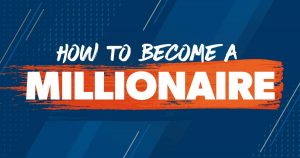 Do you have plans to become a millionaire while here in Nigeria? Of course, who doesn't!
Even if you're not seeking to get rich for yourself, demands from family and friends, plus the endless opportunity available online today should challenge you to do better.
Needless to say, everyone wants good things including ways to become a millionaire overnight.
That said, here are six proven ways you can start to make millions online today.
1. Choose a Lucrative Freelance Business
if you're just starting out doubting if you could make millions working online, then you might want to try freelancing.
As a freelancer you work from home for clients at a time convenient for you – just make sure you meet the client's set deadlines and requirements.
Freelancing is a fast way to make money on the internet from anywhere regardless of your location.
While there are many talented freelancers out there, only a few are going to where the money really is.
And even if you choose a lucrative freelance skill, you'd still need to position yourself and become an authority in a certain niche or industry to attract well-paying clients.
That said, the following skills have turned ordinary people into millionaires with freelancing:
Video Editing
Programming and software development
Copy-writing
Graphic design
Social video marketing
2. Affiliate Marketing
Despite its years of existence, affiliate marketing still works wonders in translating anyone from a pauper into riches today.
Affiliate marketing is simply when you as a person decides to work for another company or individual by helping them promote their products to people who need them either through content or other means.
You can become an affiliate marketer selling products of a company in the USA while in Nigeria.
To promote your affiliate products, you can use social media content, run ads, or leverage your social media cycle.
Whenever someone buys your affiliate products, you get a promised and fixed commission.
In the U.S, John Crestani built a $500k per month business with affiliate marketing, all thanks to affiliate marketing.
Ever heard of Pascal Okafor's affiliate marketing story or Toyin Omotosho's journey to riches?
The process is pretty simple – just learn the basics through online courses and YouTube videos and you're well on your way to your first million. Some affiliate networks you can join are:
3. Run a Blog and Monetize it
When you think of Linda Ikeji, Omoyele Sowore, and Uche Pedro, then you know Nigerians like you (and me) who are making millions of dollars with blogging today.
They are not especially skilled or trained, neither lucky – they just stick to their guns and make blogging work for them.
If you can run a blog that gets thousands of monthly traffic you can partner with companies and brands, helping them to promote their products while you get money in return.
Starting a blog is pretty easy and doesn't require much funds – a few dollars with a laptop will do the work for you.
4. Start a YouTube Channel
YouTube is the second largest search engine on the planet with more than 6 billion watch hours daily.
It's equally a social platform where you can relate to a specific audience by sharing your expertise with them.
YouTube pays content creators for creating content that people find valuable.
If you can hit a certain amount of subscribers and viewership, you can start earning money from YouTube.
The popular Mark Angel comedy is a good proof to show that ordinary people can become extraordinary influencers by creating simple videos on YouTube.
5. Set Up Your E-commerce Store
Are you looking for ways to make millions while you sleep? This is a perfect way to start!
Especially when you're selling foreign items, an e-commerce store is a fail-proof way to start making millions online.
The concept is not unlike starting a physical business, like opening a pharmacy or launching a restaurant.
But, rather than selling offline, you're selling those items online.
If you want to make millions with e-commerce in Nigeria, it's advisable to focus on selling on foreign e-commerce websites – like Amazon, komback, Etsy, and so on – to increase your earning potentials.
6. Sell Courses and Ebooks
Another fast ways to become a millionaire right here in Nigeria is to become an online tutor or sell your ebooks.
Udemy, Teachable, Thinkific, and others are great platforms where you can offer your courses to a select group of people desperate for knowledge.
You can become part of this team of tutors by registering on the platform.
Instead of being a generalist, pick a niche you have sufficient knowledge in and create courses around that topic.
An alternative method to earn with your knowledge is by selling ebooks.
You don't need to be an expert writer or graphics designer to publish a book, Canva and Grammarly can be your entourage in creating well-written and professionally designed digital products.
By kingkentus