Do You know That Africa Is A nice Place To Visit?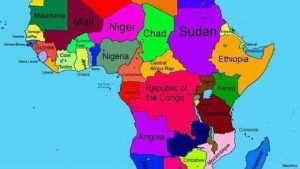 1. Africa has a population of 1. 3 billion and is a very nice place to visit.

2. Equatorial Guinea is Africa's only
spanish speaking country.
3. South Africa is the most visited
African country.
4. Nigeria has the richest Black people in Africa and a very nice place to visit.

5. Samuel Eto'o was formerly the highest paid Footballer in the world, he received about £350,000 weekly in Russia
in 2011.
6. A person from Botswana is called
a Motswana, the plural is Batswana.
7. A person from Lesotho is called a
Mosotho.
8. A person from Niger is called a
Nigerien.
8. A person from Burkina Faso is called a
9. Nigeria has won more football
cups than England.
10. Zimbabwe's former President, Robert Gabriel Mugabe was the world's most educated President with 7 University degrees, two of them are Masters.
11. Al-Ahly of Egypt is the richest football club in Africa.
12. Didier Drogba is Chelsea's
highest goalscorer in European competition.
13. Johannesburg, South Africa is
the most visited city in Africa and is a nice place to visit.

14. Zinedine Zidane wanted to play
for Àlgeria, but the selector rejected him, saying they are already many players like him in the team.
15. President Jacob Zuma was given a special
award by Fifa for refereeing on Robben Island
during his years as a political prisoner.
16. President Robert Mugabe was
jailed for 11 years for fighting for freedom.
17.  Former Zimbabwean President Robert Mugabe is
Africa's oldest Head of State and the world's
second oldest Head of State in  history.
18. Zimbabweans are the most educated Africans, literacy rates (Adult: (Adult:91.2%,Youth: 99%).
19. Rwanda is a better country for
gender equality than England and USA.
20. Somalia got its first ATM on
October 7, 2014.
21. South Africa has the most Grammy award
winners in Africa.
22. Ethiopia has the most airports in
Africa.
23. Ethiopia's economy is growing
faster than China's.
24. Eritrea's President, Isaias Afwerki is the least richest President in Africa
25. Ethiopia is Africa's oldest
independent country, it has existed for over 3,000 years without being colonised.
26. Haile Selassie 1 was the 225th
and last Emperor of Ethiopia.
27. Nigeria has the most monarchs
in the world.
28. Angola has more Portuguese
speakers than Portugal and is a nice place to visit.

29. President Jose Eduardo Dos Santos ruled Angola from 1979 to 2017.
30. President Teodoro Obiang Nguema Mbasogo is Africa's longest serving Head of State. He has ruled Equatorial Guinea since August 3, 1979 when he overthrew his uncle, Francisco Nguema.
His son,Teodoro Nguema Obiang Mangue is his Vice President and will succeed him if he resigns. He started ruling Dos Santo
31. George Weah of Liberia is the first man to win World, European and African footballer of the year in the same year.
32. Swaziland is the only remaining
absolute monarch in the world.
33. The Gambia is the smallest country in Africa followed by Swaziland.
34. King Sobhuza ll of Swaziland took the longest time in reigning Swaziland, 62 years as he was crowned in 1921 and died in August 1982 at the age of 83 years.
34.1. King Sobhuza II of swaziland, married 70
wives, who gave him 210 children between 1920 and 1970.
35. Zimbabwe is the only country in the world
where almost everyone was a billionaire at one point due hyperinflation.
36. Kenya has the highest paid members of parliament. They are paid more than those even in oil rich countries
37.Botswana has the most valuable Diamonds in the world but is one of the country with poorest people in Africa
38. Ghana was the first country in sub-Saharan Africa to gain independence post-colonialism.
39. Ghana was ranked as Africa's most peaceful country by the Global Peace Index. Lake Volta, in the Volta region of the country, is the world's largest man-made lake a very nice place to visit.

40. Uganda. There are a wide range of ethnic groups in Uganda with many different languages spoken, namely Luganda (most common), English (only a small portion speak it), Bantu, Swahili, Nilotic and Lumasaba.
Christians make up 85.2% of Uganda's population, there are a certain amount of Sikhs and Hindus, and 12% are Muslims.
41. Tanzania is the largest country in East Africa and includes the islands of Zanzibar, Pemba and Mafia.
42. Tanzania's population includes around 120 different African tribal groups.
43. The Democratic Republic of the Congo is extremely rich in natural resources but has had political instability, a lack of infrastructure.
44. In 2009, the Democratic Republic of the Congo (DRC) had an estimated $24 trillion in untapped mineral deposits, including the world's largest reserves of coltan and significant quantities of the world's cobalt reserves.
45. Malawi is home to the third largest lake in Africa, Lake Malawi.
46. Malawi tea is known across the globe. Many of the world-renowned tea brands such as Twinings, PG Tips and Five Roses use Malawi tea leaves.
47. Zambia relies on copper as one of its biggest exports.
48. Zambia's South Luangwa National Park has one of Africa's highest densities of big game.
Let me add 49 for Kenya. The first African country to produce USA president, Barrack Hussein Obama.
Source:Unknown