What's New With Komback Marketplace?
komback MarketPlace is now available at Google Play store!
Your favorite online marketplace launches a new app available to all users. Access komback easily from all places in your phone. Download the app for exciting deals. It is supported in all android devices except apple products.

komback is the best online marketplace for buyers and sellers to meet and conduct business transactions. It is an online marketplace located in  Nigeria. It has its own online marketplace website for buyers and sellers to easily interact without going through the hassles of meeting in person unless a business deal is fixed. 
Guessing how many Naira needed to download this app? Zero.
Download for free on Google play store with unique and updated features. Easy to access and download. Download komback MarketPlace for free online.
Psst….GOOD NEWS! komBack MarketPlace App comes with new features and great style.
komback app has been designed to look attractive. It is user friendly. It has an easy log in process, just sign up or sign in using your email id and password. It comes with great and effortless style. It makes it easier to access various features of komback website which is the best online market place in Nigeria.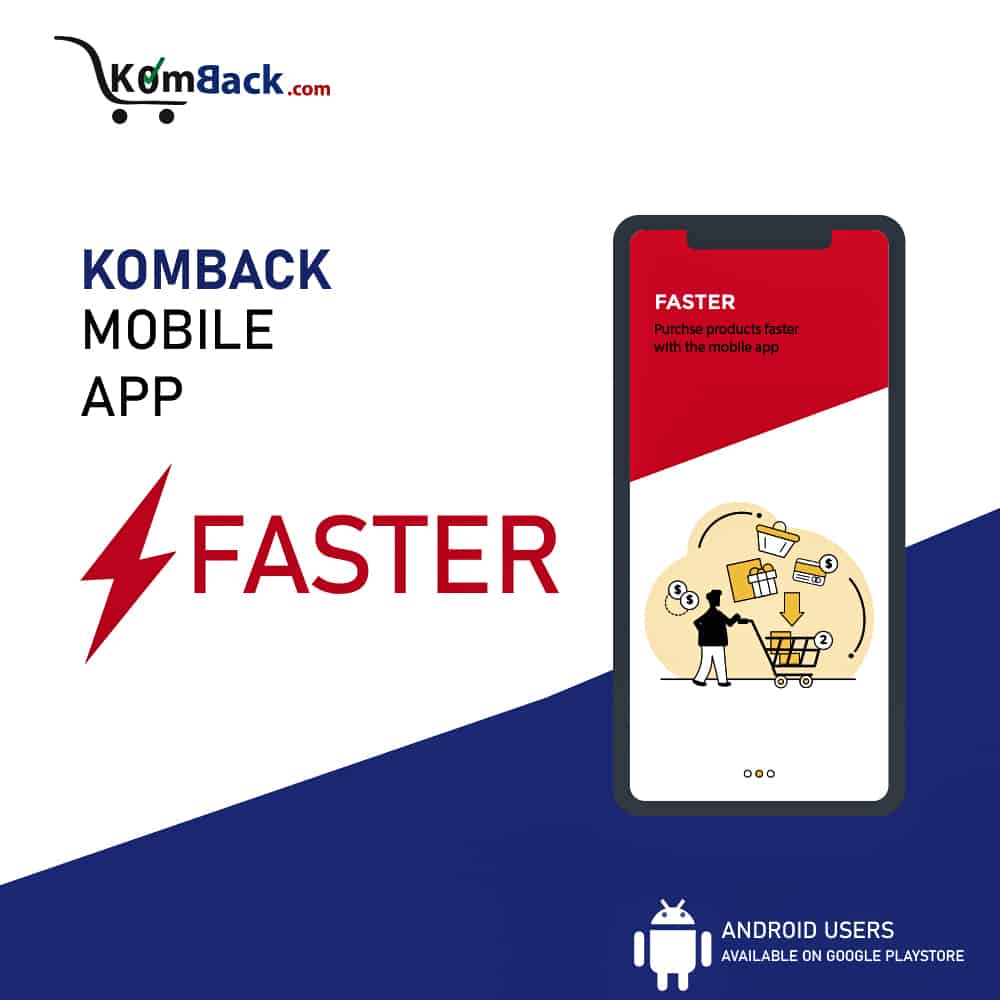 FEATURES AVAILABLE IN THE APP 
The app has in-built bug fixing abilities. Thus making it easy and user friendly. It also reduces load on users to constantly contact for services and repair their app issues.
The app shows you high quality products according to your preferences. komback has been working hard on building a simple app that also includes intuitive user interference that saves the pain of the user to keep searching products according to his preference.
Easy Online Booking. As one of komback's main aims has been to provide its users with an app that is easy to operate. Thus Komback being the best online market place in Nigeria Highlights its easy online booking facilities.
Komback has made an effort to make sure that the app size is small and does not consume too much space. Thus users do not have to worry about the app taking up too much space in their phone memories.
It has interactive elements such as sharing locations and in-app purchase.
WHAT DO CONSUMERS SAY? 
komback MarketPlace has a standard review from customers. Most of its users seem happy. Their reviews have encouraged komback for its excellent efforts. Happy customers add an advantage of trust that is built customer to customer. Another customer's good word of mouth regarding komback helps another customer recognize komback Market Place's potential as a business.
IN CONCLUSION, Komback has been making various efforts for its customer's satisfaction.