Hits: 21
7 Things To Consider Before Buying A New Phone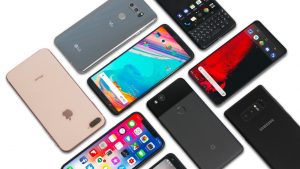 You don't want to fall behind in the fight to stay current given how totally the smartphone market has taken over the phone industry.
There are many various kinds of cellphones, including gaming phones, waterproof phones, camera phones, Android-powered phones, iPhones, etc., if you search about.
Instead than discussing the wide range of mobile devices now on the market, our goal is to walk you through key factors to take into account before buying a new phone.
The list of factors that you should never overlook when deciding which phone to buy is provided below.
If you do, you might later come to regret what you did.
Here are seven things you should think about before purchasing a new phone:
1. Your Pouch (Budget)
While looking for a new phone, one of the first things you need to think about is your pocket.
There isn't much you can do if you are an expert on phones but lack the funds to buy the model with the features you want.
In light of this, your objective ought to be reasonable in view of the resources at your disposal right now.
When new phones enter the market, they are typically pricey.
Before making a purchase, you might want to think about waiting a few months after a phone's introduction.
Phone costs decrease over time.  When you have a tight budget, wait before purchasing a recently released item.
Paying more than necessary is possible. Smartphone values do not rise over time like those of other investments.
Since the local currency's value is uncertain, particularly when compared to the dollar, the cost of phones can change dramatically.
So, it could be a good idea to acquire the phone you require as soon as you have the money to purchase a new phone.
The foreign exchange market in Nigeria is quite volatile.The exchange rate is frequently increasing.
Due to the fact that most phones in the nation are imports, a slight increase in the exchange rate could result in you having to pay extra for your ideal phone.
Thus, purchase a device as soon as you can to avoid later-on financial hardship.
Also, because Jumia, komback, and Konga frequently provide jaw-dropping discounts on their online stores, you could be on the watch for promotional discounts and wait for the perfect time to strike spectacular deals there.
Additionally, there are websites like EasyBuy that let you pay for a phone you desire in installments if you don't have enough money to buy one outright.
1. Phone's specs, features and reviews
It is very essential to consider the specifications, features and reviews of the phone you want to buy before releasing your money. Be aware that it is highly risky to buy a phone without first determining whether or not it satisfies the requirements you have laid out for it. This oversight may come back to haunt you.
Reviews are in-depth examinations of a product done by consumers who have used it. They draw attention to the product's distinctive qualities. Also, they list any shortcomings, mistakes, or other issues that might be present.
2.They give it either favorable or unfavorable reviews.
Never neglect to check the device's specifications, such as the screen size, Android version, camera resolution (front and back), battery life, network type, processing speed, RAM, storage capacity, etc.
Also, it's crucial to have features like over-the-air updates, facial ID, a fingerprint scanner, a cooling system for gamers, and quick charging (also known as flash charging).
Make sure you have properly investigated the characteristics and capabilities of the phone before making a purchase, preferably by reading reviews that have been placed online.
3. Warranty
Check to see if the phone you wish to buy has a warranty that lasts at least a year.
In the case that mobile devices—especially phones—randomly develop software issues or faults that you did not cause, this is a very beneficial fix.
You won't be held liable for the price of maintenance, repairs, or even replacement during the warranty's coverage period.
Most of the time, only newly purchased phones have warranties attached to them.
You almost probably qualify for a warranty when you buy a new smartphone from a reputable shop.
4. Repair Shop
Many individuals ignore this very important component, although it is really important.
Consumers don't consider whether the phone manufacturers are interested in having repair facilities nearby.
When you have to travel a great distance merely to fix your phone, it hurts.
Before making the purchase, you might have avoided the stress of having to drive a great distance and the associated expense to fix the phone by simply checking to see if the manufacturer of the phone offers a service center in your neighborhood.
To prevent having to go for hours to fix it whenever it develops a fault, examine if the next phone you intend to purchase has a repair facility close to your neighborhood.
5. Accessibility of accessories/replacement parts
For individuals who favor purchasing electronics from foreign online markets, it is nice.
The drawback of this is that you would need to be ready to ship their components from abroad if these devices started to malfunction.
Also, you must account for the time it would take for your goods to reach Nigeria.
This process takes a long time, and occasionally you might not even get the products you ordered when you need them or they can be out of stock.
The next phone you purchase should have a repair facility or a store selling phone accessories where you can easily obtain all the parts and accessories you require.
Knowing the price is one thing; having access to a phone's replacement parts is another.
Even if your favourite brand's accessories and replacement parts are readily available nearby, think about whether their price falls within your budget.
Certain manufacturers' components can be relatively expensive when compared to those of other companies.
For instance, compared to its main rival, the iPhone, the bulk of Samsung's flagship smartphones feature really expensive screens.
If you're willing to wait, you can find smartphone parts on AliExpress at exceptionally inexpensive prices.
Things usually take a very long time to arrive, but if you opt to work with a shipping company like DHL, the process can be sped up.
6. Online accessibility
It has been said that a phone without internet is like a ship without a rudder.
Your device is effectively useless if you can't connect it to the internet. A phone only functions thanks to the internet.
This is confirmed by the vast majority of Windows, Android, and iPhone users.
Hence, before you go out and get your next phone, you should make sure that you have done your homework on which internet service provider in Nigeria, taking into account your preferred mobile network, offers the best, most inexpensive, and reliable services in your area.
Recall network connectivity as well, which relates to the fact that some networks offer 4G and 5G internet connections in specific regions of the nation.
So, you should make it a top priority to get phones with either 4G or 5G connectivity when you go to purchase that device.
When you finally have your phone, you can choose one of several low-cost data plans to use it with.
To get them, conduct the required study or speak with locals.
7. Power Source
Even though it's the very last item on the list, neither of us can deny that the country has significant difficulties in ensuring a reliable electrical supply.
Most Android and other smartphones have greatly increased their battery capacity due to the multiple programs that are operating in these devices at once.
By kingkentus