Hits: 7
HEALTH BENEFITS OF UDARA FRUIT. (AFRICAN STAR APPLE)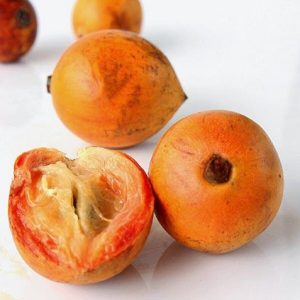 The strong deity for fertility
(Udara omumu)
I love my African tradition…
What do you know about Udara?
Here in Nigeria, the African star apple, or Udara fruit, is a very well-liked fruit.
Its fleshy pulp is frequently consumed as a snack and is widespread in both urban and rural settings, especially in Southern Nigeria.
The more popular names for the African star apple are Agbalumo in Yoruba and Udara in Igbo.
What does it signify when you pick it in a dream or reality without expecting it.
Most of us don't know the meaning of udara that is standing in our compound. We only pick and lick, Even the bark and leaves are used to cure fever and some minor illnesses.
The Udara tree in your compound or at your backyard is not just a tree but a spiritual tree which signifies omumu, Udara is the mother of Akwari omumu (Udara mutara Akwari omumu). Udara is a spiritual tree and that's why you don't go there at midnight unless you want to see what will happen with your eyes.
If you want to know how powerful this Udara tree is, go  and get white cloth tie that one that grows in your compound and start making rituals for it. It protects the lives of everyone in that compound and also multiplies whatever you do for a living. Udara fruit cannot be plucked, you have to let it fall by itself.
When you pick Udara in your dream and you wake up in the morning just pray and tell God to make it come through(it's a very nice dream). Maybe you are seeking a child or someone related to you will have a baby ,or something good is about to happen to you. When you go to Udara tree and ripe udara fall for you as you are standing without expecting it, then it's good luck, just pick it and say nice words to yourself.some udara are connected with one's ndi otu, umu ogbanje and dada spirit are also connected with udara tree.
Udara is not a tree you can cut anyhow without appeasing the ancestors and ogbanje children, if not you will be having difficulties from one problem to another.
One of my relatives(an old man) went and cut udara that is in front of his compound simply because his son made money and decided to build a house, but because they are christian, and they did not ask question.Western Religion has really made some people think that our African tradition is evil and fetish. So Early in the morning, kids rushed to pick udara as they normally do but was disappointed when they got there, and the tree has been cut down so they left crying and unhappy, (umu ogbanje) after some weeks the man's first son developed epilepsy and it became worse as time goes on, the second son became deaf and dumb and his first daughter was blessed with Jinx (Agbara ya uchu) no man has ever ask for her hand in marriage till she clocked 45yrs
The old man and his wife started running up and down seeking for the cause and solution to their problems, they were told that it's the udara tree that is doing that to them coupled with the heart of those innocent kids that can't pick any fruit from that udara tree again.  They were asked to gather kids in the village and do saraka for them so that they won't be angry again and udara rituals were done also. His son's started getting better and finally regained their good health.
Udara bu osisi mmuo, Udara mutara Akwari omumu.  Even udara seeds are used by many native doctors for some rituals and sacrifices. Udara is powerful and also it's a female spirit, it's a deity for fertility.
Benefits of Udara fruit/Agbalumo for Health

1. It is undoubtedly a healthy food because, like most fruits, it has few calories and little fat.
2. It is an excellent snack because of its high fibre content, which gives the food bulk, increasing satiety and facilitating digestion, making it perfect for weight watchers.
3. It contains surprisingly good levels of ascorbic acid (Vitamin C).
4. It is obvious that sources of vitamin C and minerals are not limited to the citrus fruit family; in fact, guava has a lot more!
5. Recent studies on Udara/Agbalumo leaves conducted in Nigeria on rats revealed two potential medical applications:
6. Its leaf may act as a natural source of antioxidants to combat oxidative stress illnesses by removing free radicals.
7. If you're looking for the fruit of the womb, just go to udara trees with some prayers. Infact let me stop here for now….
(Bishop Dr Chinomso Jude Nwala )